Stove flue pipe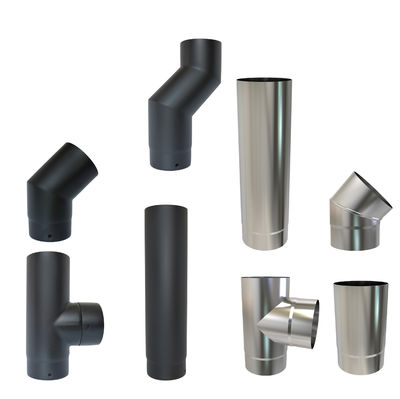 Our Clearline stove flue pipe is available as matt black enamelled, or stainless steel. The stainless steel flue pipe can be sprayed to match the colour of your stove. Clearline flue pipe lengths are available with an access door for sweeping but most modern stoves can be swept straight through the stove so the door is not always needed.
An advantage of Clearline is the very clean look when installed. Most types of enamelled flue pipe have a larger female socket which means you get a bulge at each join. Clearline has a slightly smaller male end (like most types of stainless steel flue pipe) which means that all you get at each join is an unobtrusive line.
We have a full range of flue pipe elbows, tees, wall bands and adaptors available. Trim rings finish off the wall penetration if the flue pipe is used to connect up to an existing masonry chimney and the damper unit has an integral flue damper built in.
UPDATE 11/11/2019 If you have bought enamelled clearline stove flue pipe before this date, the colour has now changed slightly. So please let us know if you need an exact colour match for existing flue systems.
If you need a glossy black finish or another colour then we can of course supply it but would need to shift to another type of flue pipe - please just ask us when you contact us, it's no problem.
You can restrict your search to certain flue diameters
View Cart
View Cart