Clearline AKW Twin Wall Flue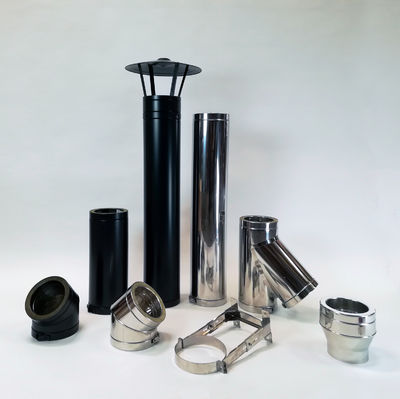 Clearline AKW (125mm, 150mm, 175mm and 200mm) is a stainless steel insulated chimney designed to be used with solid fuel, biomass, oil or gas and with both condensing and non-condensing boilers. It is suitable for a wide variety of different applications and is available in a polished stainless or black finish. It has a fully welded inner and outer with rockwool and ceramic fibre insulation. It is designed to withstand continuous high temperature use, can deal with condensation and is extremely resistant to corrosion.
Safety has always been at the forefront of Clearline design. By utilising a push fit jointing system Clearline does away with the hot spots found with twist lock flue systems and its unique addition of a ceramic wool section at every joint means that it is easy to assemble and yet maintains its thermal integrity throughout its length.
Clearline AKW has been tested to have a working temperature of 600 degrees, which is 150 degrees more than most systems on the market. Clearline AKW can be installed within 50mm of combustible material and is HETAS Approved and CE marked EN1856-1 T600
We are here to help. If you have any questions, would like some guidance, or would just find it easier and quicker to talk to a person then please do contact us, and we can talk you through the options.
If you are ordering the flue parts to install a stove then it is good to bear in mind the six basic components you will need:

1) The single to double adaptor to go from the stove or flue pipe to the twin wall flue
2) The flue lengths and bends
3) The support components to carry the weight of the flue (either a floor, roof or wall support) and wall bands to give lateral support.
4) Trim plates for where you go phrough a wall or ceiling to give a tidy finish
5) The flashing plate for where the pipe penetrates the roof
6) The rain cap to go on top
There are a few other things you might need, like a flashing if you're going through the roof or a wall sleeve if you're going through the wall, but those are the five basics. We are always happy to help you compile a list of exactly what you'll need or you can fill out our flue design form and we'll send you a list of the components you'll require to do the job.
You can restrict your search to certain flue diameters
View Cart
Clearline AKW Guide

The Clearline AKW twin wall insulated flue pipe installation and maintenance guide.
View Cart