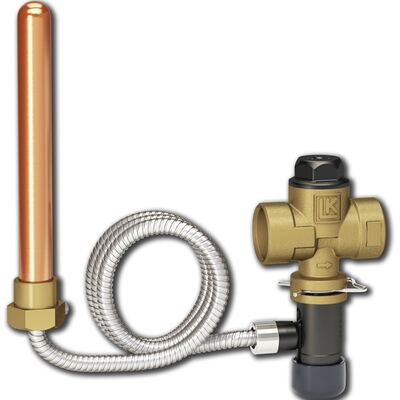 Overheat Safety Valve Pressurised Systems

An overheat safety valve provides protection to a boiler stove that has been designed for installation onto pressurised systems.

How does this work?
The boiler stove will have a copper finned coil inside the boiler jacket, this is called a quench coil.  The over heat valve has a sensor probe which is fitted into an immersion pocket on the boiler stove, if the heat sink radiator does not get rid of the excess heat in an emergency (temperatures in excess of 97 deg C) then the valve will release cold mains water through the quench coil which will cool down the boiler temperature.
Technical specs:
3/4 Inch female valve connections
1/2 Inch male x 145mm sheath
1300mm probe length
97ºC release temperature
£102.62 inc. VAT
In Stock Now
Get in touch
You can contact us by phone: 

Mainline: 0800 246 1250
Christine: 01308 458938
For boiler stove enquiries only please call Scott: 01803 714 474
You can use our enquiry system to send us a message through the website.

Start a Flue Design
You can use our Flue Design Service to have your chimney system designed by our experts, it's all included when you choose to work with us.