Delivery Information
Delivery of stoves and flues
Important information involving your delivery
Our stove carriers - most of our stoves are now delivered by Palletforce through the UK pallet network. Stoves online have arranged a really good stove delivery system with them whereby the goods are taken overnight to your local depot. They then contact you before delivery. They will also have a tail-lift and hydraulic trolley to make your stove delivery as easy as possible.
Please let us know whether there is restricted access to your property so that we can arrange to use a 7.5 tonne vehicle. If there are other restrictions like very low overhanging trees or a gravel driveway, please let us know beforehand so we can tell the delivery company.
Timing - Please be aware that delays to delivery are possible and are not within our control. For this reason please ensure that you arrange your delivery with plenty of time before the stove, liner, etc is due to be installed - do not arrange delivery for the day before the installers have been booked in.
Damages and discrepancies - When the pallet arrives please check the contents very carefully before you sign for it to ensure that nothing has been damaged during transit. This will usually mean that you have to remove some or all of the packaging to be able to have a good look at it. When you sign for receipt of the delivery please be aware that you are signing to say that the stove and all component parts have arrived in good condition. If you cannot check the goods properly for any reason, or the driver won't wait while you check them, then you must sign for it as 'Damaged'. You should then check the goods thoroughly as soon as it is possible. We cannot be responsible for damage to goods that were signed for as having been received in good condition. If your stove or flue is damaged you can still accept the delivery but you must have signed for it as damaged. Then you will need to let us know within 24 hours.
Please also check that the stove, flue system and any other components are as ordered and report any discrepancies to us within 24 hours. After 24 hours we cannot be responsible for any damage or missing goods.
Handling - You will need to be able to bring the stove inside yourself which may mean arranging for someone else's help. Although the drivers are usually very helpful please be aware that they will not unpack the pallet nor will they bring the goods inside for you. The driver will have a pallet truck and will wheel the pallet up to your house if that is a reasonable distance and if the surface allows. If you have a gravel driveway or similar rough surfaced drive that the pallet can't be wheeled across then let us know beforehand.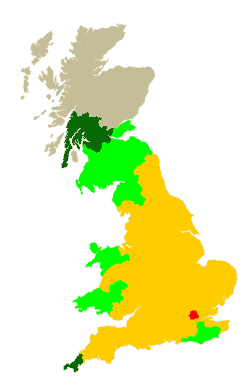 This map shows these delivery areas in more detail. The light green areas include LL, LD and SA20+ and SY4+ postcodes in Wales, DG and TD postcodes in the Scottish Lowlands. The dark green area includes any PH or DD postcode areas in the Scottish Highlands. Delivery to any islands will also incur a surcharge. The Red area incurs a Central London surcharge.
Delivery to Europe and further afield - Within Europe, at the moment, we can only deliver to business or trade customers that are VAT registered and have an EORI number. This usually just means buying your stove through your local trade installer. OR you can have us deliver the stove for you to collect from anywhere in the UK, OR you can send in your own courier to collect from us. Hopefully this situation will become resolved over time. You might like to see our Stoves in Europe page for more details.

Where the price of a stove includes delivery - when the price of a stove includes delivery within England and parts of Wales this symbol is shown and the charges are as follows:
| | | |
| --- | --- | --- |
| Area on map | 48hr delivery | 24hr delivery |
| Orange | £0 | £10 inc VAT |
| Light green | £25 inc VAT | £35 inc VAT |
| Dark green | £125 inc VAT (3 days) | N/A |
| Grey | Ask us for a delivery quote | N/A |
If the price of the stove does not include delivery then following delivery charges apply:
| | | |
| --- | --- | --- |
| Area on map | 48hr delivery | 24hr delivery |
| Orange | £75 inc VAT | £85 inc VAT |
| Light green | £100 inc VAT | £135 inc VAT |
| Dark green | £200 inc VAT (3 days) | N/A |
| Grey | Ask us for a delivery quote | N/A |
Returning items to us including flue returns
Please never return anything to us without having contacted us first. Our returns are handled through a returns system and we need to set you up a reference if you want to return something to us.
Please do not simply send anything back to the address as shown on our website - unidentified deliveries will be refused.
We will give a full refund for any flue items* that you wish to return to us and do not levy a restocking charge (unless we have had to order in something specially for you). You have up to 8 weeks to return items to us.
Time limit: Flue parts can only be returned within 8 weeks of receiving the order.
To return flue pipe to us please contact us by phone or email. Here is a link to our contact page.
Obviously we cannot refund for items that are returned to us damaged, so please ensure that the items are insured during transit. If any items do come to us damaged then we will let you know what was damaged, the value, and you can take this up with your delivery company.
When you do return items to us we stress that lots of extra packaging is needed as this will reduce the chance of damage during transit. Please also make sure that you do not write on the original packaging that the items come in as we cannot then resell them. If you do write on the packaging we then have to sell the items through our clearance section and you will receive 25% less refund - so it is worth adding that extra packaging and then writing the address on there. Our returns procedure means that you will get full instructions as to how to package the items and will include address labels to stick to your packaging.
*flexible chimney liner cannot be returned as it is cut to your specification, custom made flue parts cannot be returned either.
Website details
All dimensions given on the website are approximate. As all stove and flue manufacturers reserve the right to change their product specification without prior notice, Stovesonline cannot be held responsible for any inaccuracies on our website, although we do of course do our best to keep our information up to date.
You might like to read our full terms and conditions