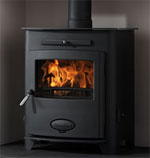 Boiler stoves
A wood boiler stove provides heating and hot water and, unlike a heat pump, requires no electricity to run.
From small boiler stoves which can provide a bit of hot water, to larger stoves which can easily power your whole house there is a large range to choose from.
Visit our Boiler stoves page, or click on the picture for more details
---
Thermal Stores
A thermal store (also known as a heat store or buffer tank) forms the heart of the heating system and hot water system. A thermal store allows you to link up renewable heat sources like a boiler stove, pellet boiler, and solar panels for hot water. A thermal store also allows you to store up heat in times of plenty and of course you can have conventional backup like an immersion or an oil or gas boiler.
Visit our Thermal Stores page, or click on the picture for more details
---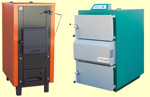 Gasification boilers
A log gasifier or log boiler is a large woodburner which lets you burn big loads of firewood at high efficiencies. This means that you do not need to load a log boiler as frequently as you would a boiler stove. A log boiler would normally live in an outbuilding or utility room and be connected to an accumulator tank or heat store which lets you produce hot water during the summer months without overheating your house. Log boilers tend to be more automated than traditional boiler stoves and I think that this is part of the beauty of the log boiler – it reduces the amount of time your have to spend running it, but you are still using the most readily available (and potentially the cheapest) carbon neutral fuel.
Visit our Gasification boilers page, or click on the picture for more details
---

Boilerstoves website
Boilerstoves.co.uk gives a good overview of the subject of wood fired central heating. Using boiler stoves and log gasifier is a potentially complex subject – boilerstoves.co.uk is a good place to start if you are getting information overload on Stovesonline....just click the picture or the link below to open boilerstoves.co.uk in a new window.
Visit our Boilerstoves website page, or click on the picture for more details
---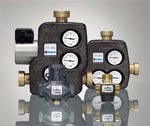 Load units and load valves
Here we have load units and load valves which make your boiler stove or log gasifiyer run more efficiently, last longer, and improve the charging of heat accumulators too.
Visit our Load units and load valves page, or click on the picture for more details
---
System Controllers
A surface mounted control and display panel is mounted discretely near the stove.
Visit our System Controllers page, or click on the picture for more details
---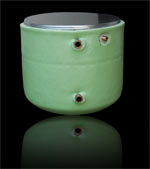 High temperature headers
High temperature header tanks are essential for vented boiler stove installations. These copper high temperature F&E tanks can easily take temperatures in excess of 110ºC – which standard header tanks cannot.
Visit our High temperature headers page, or click on the picture for more details
---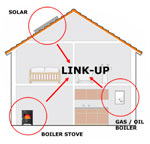 Linked systems and Linkup
Here we have some devices which let you linkup multiple heat sources in the same heating and hot water system. The best way to do this is with an accumulator tank, but there is not always room for one, and the project is not always big enough to warrant one. We offer here the Esse Centraliser, which allows you to linkup open vented systems, and the SystemLink SystemZone, which allows you to linkup open vented or pressurised systems.
Visit our Linked systems and Linkup page, or click on the picture for more details
---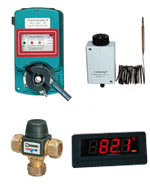 Mixer valves and thermostats
Mixers take hot and cold water and mix them to give the desired temperature. They are often used at taps to make sure that the water does not come out scalding but here we put them to quite different uses; to reduce the flow temperature going to radiator and underfloor heating circuits which reduces the rate at which hot water is pumped from your heat accumulator.
We also offer a flue thermostat which is an excellent way of telling a pump (or anything else for that matter) to switch on or off depending on whether your stove is going or not.
Visit our Mixer valves and thermostats page, or click on the picture for more details
---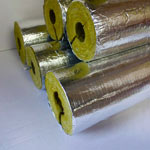 Rockwool pipe insulation
Rockwool pipe insulation provides very good insulation against heat losses through hot water pipes. Rockwool pipe insulation is able to withstand the high temperatures that can be achieved in heating and hot water systems and comes in decent thicknesses.
Visit our Rockwool pipe insulation page, or click on the picture for more details
---
District and Community Heating
District heating or community heating schemes allow a group of houses or buildings to be heated by a single boiler. This can save on running and installation costs and of course takes up less room than several individual boilers. District heating schemes are common on the continent in countries like Denmark and are becoming increasingly popular here. In this section we offer underground pre-insulated pipe which is ideal for district heating as well as large bore valves.
Visit our District and Community Heating page, or click on the picture for more details
---
Expansion Vessels
Expansion vessels take up the expansion of water as it heats up in a sealed, or pressurised, central heating system. Small expansion vessels are readily available from plumbers merchants but here we offer high volume expansion vessels suited, for example, for use with systems incorporating thermal stores. The large, high volume, expansion vessels needed are often hard to source.
Visit our Expansion Vessels page, or click on the picture for more details
---
Overheat Safety Valves
This Overheat Safety Valve gives protection for boiler stoves installed on pressurised heating systems. If the stove overheats then mains water flushes through an internal heat exchange coil in the stove cooling it down.
Visit our Overheat Safety Valves page, or click on the picture for more details
---