AirSmart Passiv House Controller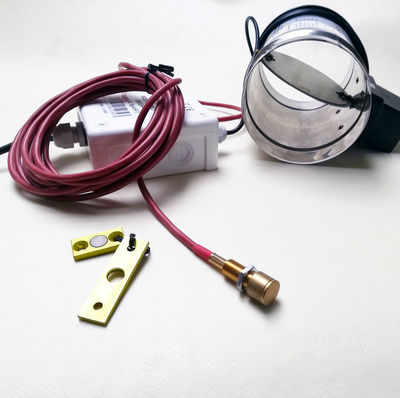 The AirSmart Standalone consists of a small sensor which you fit to the door of your stove. You just need to drill a small hole to fit one part of the sensor, the other part attaches to the door with two small screws. Fitting it is possible for most of the stoves I have had a look at, but if in doubt please just ask us).
The door sensor tells a small control unit when the door of the stove is open and when it is the unit opens a sealed air vent. The air vent is sealed using a silicone seal. You either install the vent as part of a stove ventilator to an outside wall, or you upsize the direct air duct to your stove and then just tee off it into the room and fit the vent to that tee.
A stove with a direct air supply is a great innovation, but without air coming into your home then the stove will still tend to smoke when you open the door if you have not also fitted a permanently open vent to the room. This is the problem the AirSmart overcomes. HETAS have a full procedure which allows their installers to verify that a stove fitted without a permanently open vent to the room can be signed off.
To be on the safe side the Standalone unit will also open the vent to the room if there's a powercut.
| Model | Diameter | Price | |
| --- | --- | --- | --- |
| AirSmart Standalone 100 | 100mm | £246.00 inc. VAT | |
| AirSmart Standalone 120 | 120mm | £252.00 inc. VAT | |