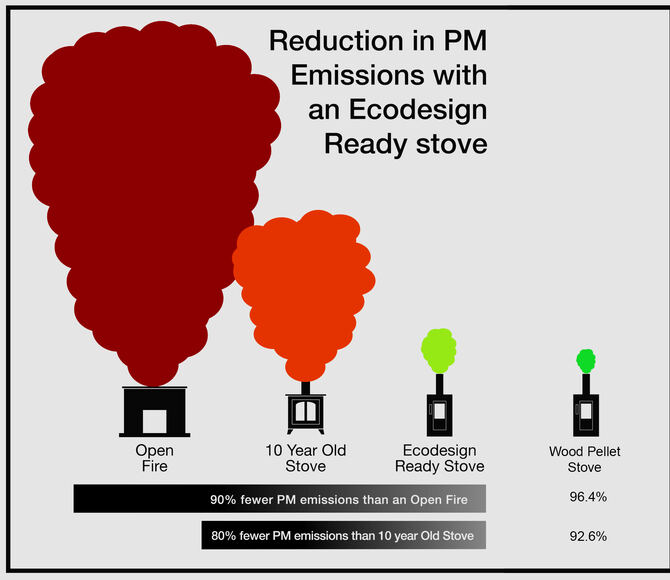 Ecodesign
Ecodesign is a set of regulations which sets tough new standards for stoves across the whole of Europe. Ecodesign is set to come into full force in 2022. 
Ecodesign sets minimum efficiency levels and maximum particulate and NOX emission limits. The initial feedback from the test labs is that these emission limits are probably more stringent than those set for UK Smoke Control Areas. So by 2022 all new stoves will likely burn cleaner than those currently permitted to be used in Smoke Control Areas. In addition we gain a NOX limit which is not currently tested for, nor are limits set. 

The graphic above shows a rough comparison of particulate levels and you can see that an Ecodesign stove is better than an older stove, and many times better than an open fire.  
By 2022 these stricter Ecodesign limits will apply across the whole of the UK. 
But we adopted Ecodesign a year ahead of schedule so you will only find Ecodesign stoves and boilers here on Stovesonline. That is because dealing with particulate emissions is the key thing which the stove and biomass sector needs to deal with. In 2022 we plan to go beyond Ecodesign and make further improvements. 
All of our are Ecodesign compliant.