New Laos stove project - saving CO2 in Cambodia
In December 2007 we purchased at least 32 tonnes of CO2 by subsidising this fuel efficient stove program. This means that as a result there will be a reduction in CO2 emissions of at least 32 tonnes. 
The New Lao stove project in Cambodia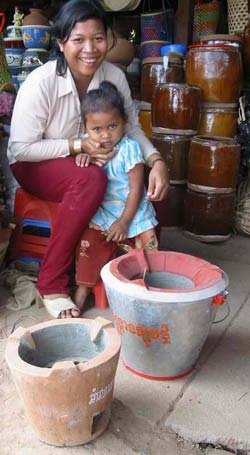 A local stove seller selling the new Laos stove.
This project helps traditional stove makers to make improved stoves that are more efficiently designed. This is achieved through a lot of R&D, training, technical follow up, quality control, market development, structuring the supply chain with fair trade values, energy policy work and pushing demand through advertising. In this way the project transforms the existing private sector to a cleaner technology, and does not introduce any market distortion (such as free distribution). Our purchase in December 2007 was roughly equivalent to 50 families accessing efficient stoves through this project.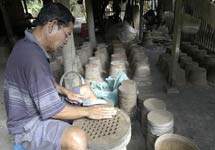 The new Laos stove in production.
How the CO2 savings are calculated
CFSP had their calculations verified by a UN approved verifier DNV who were contracted to audit their project and look at the studies and calculations. It is impossible to state the exact emissions reductions because these depend on cooking preferences, the skill of the cook, fuel availability and quality, etc. They get round this through using conservative estimates and statistical analysis. So for all of CFSP's studies on fuel consumption they use the most conservative values so that they can say that the emissions reductions will be at least X amount.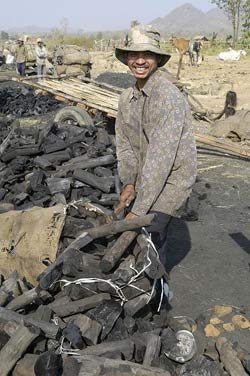 Charcoal production in Cambodia. Less charcoal
will be used because of the New Laos stove.
This project has now finished. 
Downloads