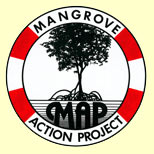 The Mangrove Action Project is a charity which fights to preserve mangrove forests. Mangrove forests protect coastal areas from erosion and storm damage. Mangroves are a great nursery area and rich habitiat for many species. Mangroves are also the only type of forest which I know about which actively sequester CO2 throughout their lifetime. Other forests do not continue to sequester CO2 once they have reached an upper limit.

We supply the Mangrove Action Project with a donation every month. You can find out more and donate online yourself at the Mangrove Action Project website
This is actually not to do with the Mangrove Action Project but it is to do with mangroves. I helped to support a campaign to try to stop the bulldozing of half of Bimini's mangroves to make way for a golf course. Bimini is in the Bahamas and acts as a nursery ground for a lot of species in this island group as well as the home for the critically endagered smalltooth sawfish. The campaign was successful and you can see the film below which was my contribution:

Read about the other ways in which we are trying to make Stovesonline a more sustainable business.