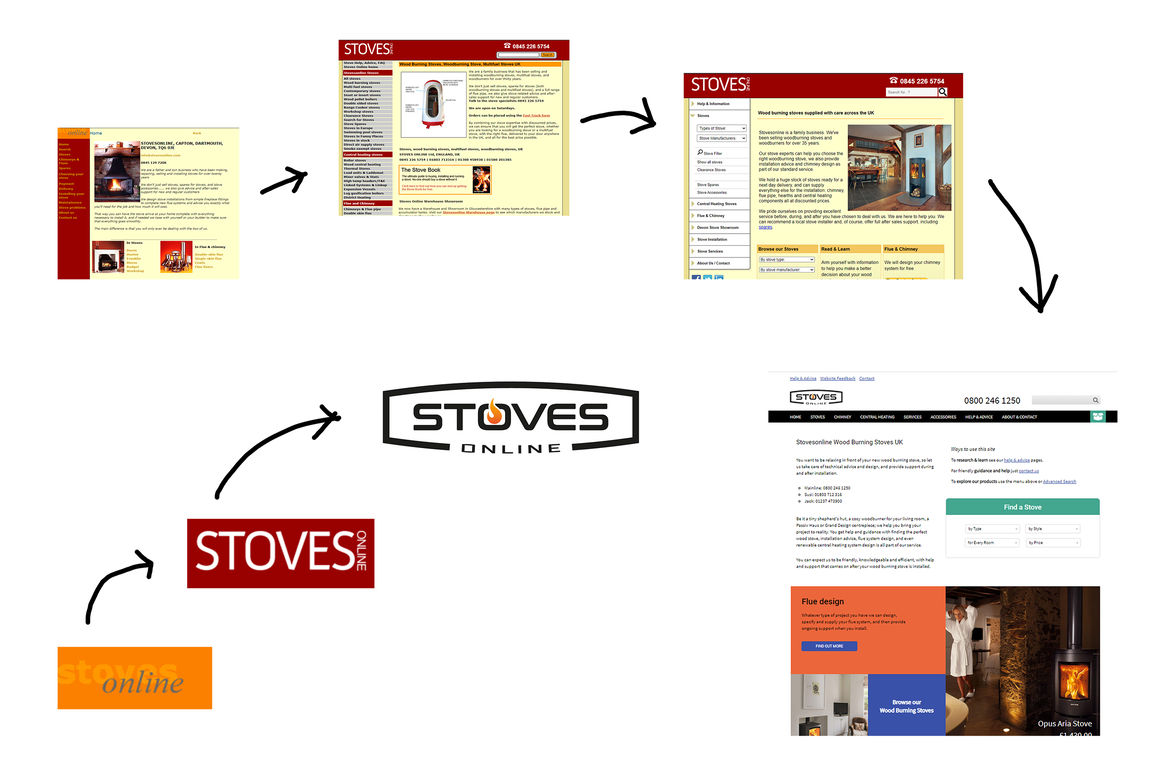 New Stovesonline Website Launched
3 years ago
Here at Stovesonline we can honestly claim to be THE original online stove showroom; Stovesonline has been around for nearly 20 years now, well ahead of anyone else in the UK (at least in any sizeable way). Long before then we were restoring antique stoves to full working order, installing them locally, but also supplying them online across the UK and the world. But you can't stand still, adapt and evolve that's the thing. 
In the picture you can see the evolution of the website (and our logo), from near the early days in 2002 (which is the earliest archive of the site I have), to now. So - we launched our new website this July, 2020. An update was long overdue, and part of the reason it's taken a while is that we're rebuilding everything from the ground up.

So the site now links to our warehouse stock management system so you can see what's in stock and, if it's not, then we show you the likely lead times. The stock system is quite intelligent in that it uses past information and monthly lead times to predict what we need to order into stock. That means that it's more likely that we have the stove or whatever else you need in stock ready for delivery.
We added an Advanced Search page where you can quickly narrow down the selection of stoves you are looking at. This is similar to the filters you see on clothes shopping websites and hopefully you'll find it a handy addition.
In terms of formatting you can choose between three views of our product categories; grid, gallery, or list. Grid is the default view which gives you images of everything, some details and text. Gallery is for visual browsers and so just gives you a nice big image and a title, whilst list shows you smaller images with more emphasis on the text. You can change the view at the top of the product category pages by clicking the little display icons. After you've done that a couple of times the website will remember how you like to see things and just open up with your favourite type of view.
As well as that we added in support for retina and high pixel displays so hopefully the brilliant images of stoves should look great on whatever device you're using. Lots of you visited the website as beta testers from our old site, and from social media and submitted your comments  - these were really helpful, THANK YOU. We did, and do, actually read all your comments and react to them, in fact it was so useful that we will add in a "website feedback" feature soon so that we can carry on improving the site.
We added in better cross linking; Stovesonline has heaps of helpful information but it wasn't always that easy to find it so now we have an increasing number of links between related products and articles. Sometimes pages will be tagged by a keyword so that adds in another way to find your way around. Hopefully that should make navigating around the website easier and a more pleasant experience.
There's also a new Meet the Team section where you can see who we all are. This will expand so that each team member will be able to leave their own comments and suggestions about particular stoves or other products, with a link back to our profiles where you will also see any blog posts we have each made. When you choose to work with us you should find that we take a friendly personal approach and yet this wasn't necessarily coming across on our website so this is all part of an ongoing effort, and a work in progress, to let you get to know us a bit better.
Part of the phase II work is to add in more images as the site is currently fairly text-heavy - quite of few of you said that in your comments, and we agree. We'll be adding more images into articles and pages like this one too so we don't just have to make do with a single image at the top.
Anyway, the launch produced a flurry of activity for us as we mopped up missing pages and so on, but really I have to say that it went very well, with very few moments of panic. So my thanks to Louis, Stewart, Orlando as well as Bromley, our web hosting company (who are PAS 2060 certified Carbon Neutral I proudly add), for all the hard work to make this possible. It's quite tricky moving over to a new whole new website when you have thousands of pages built up over nearly 20 years!
I hope you like it. :)
See all Sune Nightingale's blog posts