Notice plate checklist, UK stove building regs J
In Document J, page 28
Notice plates for new stove or chimney installations are a building regs requirement. Many customers contact us wanting to make changes to their chimney or to install a new stove. When its there the notice plate saves a lot of time by helping to identify the type and size of flue.
A notice plate must be completed and permanently posted in the building when hearths or flues have been installed. This then applies to stove installation, chimney lining, hearth installation, twin wall flue pipe installation, pumice liner installation, concrete liner installation, and in many other instances.


The notice plate shows the position of the hearth and/or flue and gives essential information about the materials used such as the manufacturer and flue diameter.

The notice plate should usually be displayed:
by the electricity consumer meter
by the water stop-cock
by the hearth or flue that it describes

We have our very own, rather posh we think, Notice Plate and checklist. The notice plate is metal and comes with a checklist in triplicate. One copy of the checklist is for the installer, one is for the homeowner and one for the local authority. The checklist has handy holes to make fixing it in place easy.

The checklist is based on Doc. J appendix A and helps to ensure that the installation are satisfactory. Copies should be offered by the installer to you (the home owner) and the Building Control Body. If subcontracting then a copy should be given to the main contractor.


Our stove Notice Plate and checklist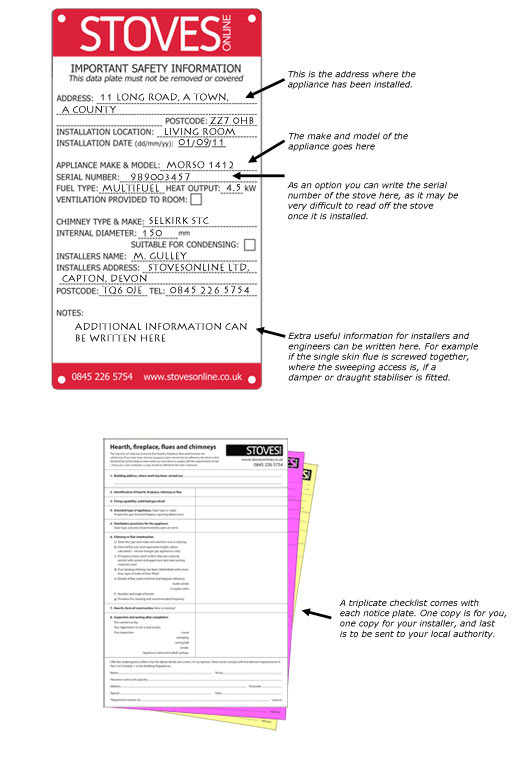 We also carry other manufacturer's notice plates and checklists. For example if we are sending out an entire Isokern pumice chimney system then we may well include the matching Isokern notice plate and checklist.