Stoves in sheds and shepherds huts
Shepherds Hut Page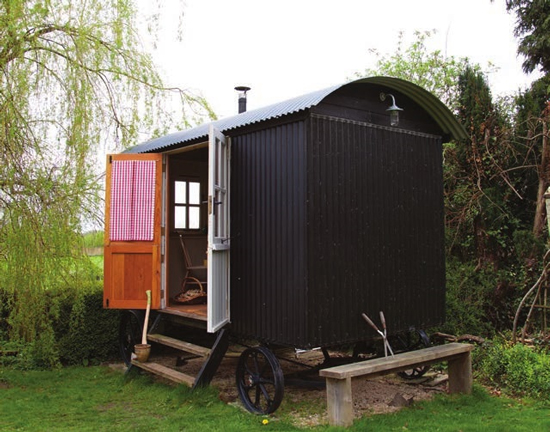 Some people have recently taken the traditional man shed to a whole new level; women have also taken to the idea of a private area outside their house and the shed might now be anything from a traditional small wooden hut to a smart contemporary stylish room with sliding doors and overnight facilities. Lots of people have looked into extending their present home with conservatories, outside sheds and structures rather than spending a lot more time effort and money on a house move. The shepherds hut is probably one of the most romantic notions for a small spare bedroom for visitors or you might prefer to keep it as a personal space for work, rest and play, an area dedicated to your hobby or special parties and meetings with friends.
A wood burner will extend the season and give you more use of the area.
A small stove like the MiFires 4 kW Solway will fit snugly in a shepherds hut. At just 230mm deep it won't protrude into the space too much but is wide enough to fit your wood in and give a cosy view of the fire and it won't overheat the hut.
Care must be taken when fitting a stove into a small space to ensure sufficient distance to combustible material, so it will need to be on a non-combustible hearth and any wood around should be shielded. In that sort of situation it can often be best to go straight into a twin wall insulated flue which can go within 50mm of the wooden wall and pass out through the roof safely. We can work with you to design a chimney system that works well and is safe without costing a fortune. Ring us on 0800 246 1250 and you'll speak to someone who can assist you with this.