Hearths for stoves - in Document J, pages 37-42
Stove building regs pages:
Stove building regulations intro
Notice plates
CO Alarm
Installation and Building Control
Stove hearth sizes
Flue outlet heights
Flue sizes
Ventilation for stoves
Flue pipe - distance to combustibles and heat shielding
Flue pipe - recommended length
Twin wall flue - boxing in
Changing from single skin flue to twin wall at a ceiling
Lining existing chimneys
New chimneys
Hearths in general
The idea of a hearth for a stove is that the stove sits on a slab of non-combustible material that protects any combustible materials underneath and around the stove from the heat of the stove and from any burning fuel that might accidentally fall out from the stove.
If burning fuel falls from the stove then the hearth should be of sufficient size that it lands on the hearth and not on the floor, carpet, or other combustible material.
The edge of the hearth should be at a different level from the floor to clearly define the safe perimeter - you can easily do this by making the hearth higher than the rest of the floor.
We can supply a range of
hearths and floor plates
. These are made from slate, glass or resin and available in a wide variety of sizes and shapes (or bespoke slate hearths cut to your shape).
Hearth size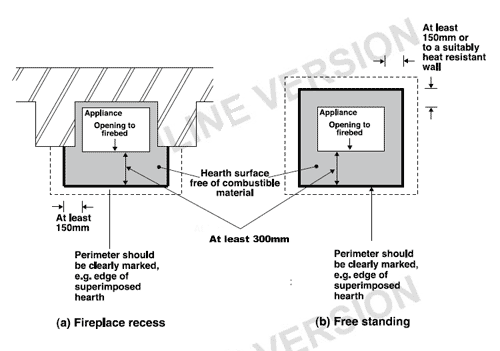 The stove must sit on a hearth of non-combustible material extending a minimum of 150mm (6") out from the stove at the sides and 300mm (12") in front.
Technically this 300mm distance can be reduced a little if the stove is not designed to be run with the door open, but in practise just about all stoves can be run with the door open so we recommend using 300mm to the front of the stove as a baseline.
Hearth thickness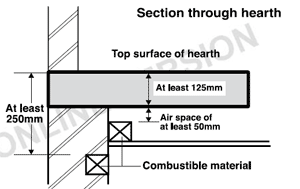 If the hearth is on a combustible floor it must be at least 250mm thick or...
The hearth may be 125mm thick if there is a 50mm air gap underneath it or....
If a stove has been tested and shown to not raise the hearth temperature to over 100 degrees centigrade over ambient room temperature then a 12mm hearth may be used.
If the hearth is on a non-combustible floor (for example a concrete floor slab) then the total thickness of the hearth together with the non-combustible floor must be 250mm or...
125mm thick with a 50mm air gap underneath or....
Again if a stove does not raise the hearth temperature to over 100 degrees centigrade then a 12mm hearth may be used.
Hearths for freestanding stoves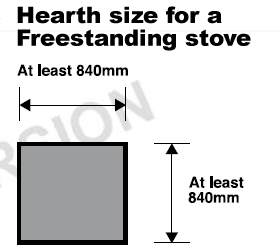 The minimum hearth size for a freestanding stove is 840mm x 840mm, unless the stove is installed in a recess.