Stove room ventilation - in Document J, pages 17-21 and 29
Stove building regs pages:
Stove building regulations intro
Notice plates
CO Alarm
Installation and Building Control
Stove hearth sizes
Flue outlet heights
Flue sizes
Ventilation for stoves
Flue pipe - distance to combustibles and heat shielding
Flue pipe - recommended length
Twin wall flue - boxing in
Changing from single skin flue to twin wall at a ceiling
Lining existing chimneys
New chimneys
Ventilation for stoves
The regulations covering ventilation for stoves have been updated as of 1st Oct 2010
Stoves need a supply of air for combustion, and to evacuate the flue gases otherwise they will not work. Without an air supply the stove will not light and smoke is likely to pour out into the house. The smoke will not be able to be drawn up the chimney as this requires air movement up through the chimney which is not possible if there is no source of air. If your stove smokes or does not burn very keenly, but this improves when you open a window then this is a sign that you need to install some ventilation. Read more about this on our smoking stoves page. Sometimes sufficient air can come through the building itself and no dedicated ventilation is necessary.
Stove ventilation - the regs
Ventilation rates to the stove are now based on the air permeability of the house as well as the rated output of the stove.
Stove with a draught stabiliser fitted

Air permeability > 5.0m³/h.m²
300mm² for each kW up to 5kW
850mm² for each kW thereafter.

Air permeability ≤ 5.0m³/h.m²
850mm² for each kW

Stove with no draught stabiliser fitted

Air permeability > 5.0m³/h.m²
550mm² for each kW above 5kW
Air permeability ≤ 5.0m³/h.m²
550mm² for each kW
A house built before 2008 is unlikely to have an air permeability of ≤ 5.0m³/h.m² unless it has had a lot of work done to it (eg double glazing throughout, draught proofing to doors and letterboxes, etc). A house built after 2008 should have an air permeability test result which you can have a look at.
An increasing number of stoves (for example many Westfire and Morso stoves) have provision for an external air supply to be connected to the stove. We carry external air ventilation kits for just this purpose.
The vent should be placed in such a way that it cannot be easily blocked and so that house residents are not tempted to block it off to reduce draughts or noise.
It can be a good idea to place the vent close to the stove. Because the stove draws the air that it needs for combustion through the vent there will be a draught from the vent to the stove. If the vent is close to the stove then draughts are reduced and the house stays warmer.
If there is a mesh to guard against pest/mice etc coming through the vent then the mesh size must be no less than 5mm.
Positioning ventilation for a stove
The vent can be placed in the walls of the room or in the floor. The vent does not even have to be in the same room as the stove - for example ventilation can be provided to another room or loft space which itself has permanent ventilation to the outside.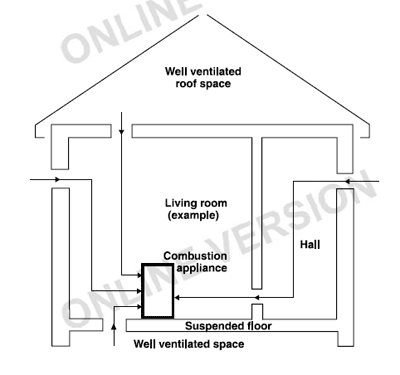 Stove room ventilator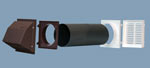 We supply stove room ventilators which can be fitted simply using a 5" core drill. It incorporates a series of baffles inside it to prevent any wind noise etc and complies with the building regulations for almost any solid fuel stove that you want to fit. For more information please see our stove room ventilation page