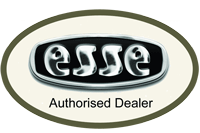 No-one can claim a stove history like Esse Stoves can. Esse have been making stoves since 1854 and they proudly continue that tradition today with a comprehensive range of freestanding and insert stoves. Esse ranges are equally well known and are regarded as some of the best solid fuel cookers on the market today.
Steeped in tradition Esse may be, but that has not stopped them innovating and their contemporary range, the Esse 125 and the Esse 525, combine up to the minute clean lines and uncluttered looks with the normal Esse high efficiency combustion systems. All of the Esse models from 2017 October are now DEFRA and  burn very cleanly. Some have are  direct air; their Esse 200 model can now draw both its primary and secondary air straight from the outside.
If you like seeing the fire then the big windows on Esse stoves, that have become their trademark look, certainly fit that bill. Combine that with an airwash system that really works and you will continue to enjoy an undiminished view of the flames on your Esse stove for many years to come.