Stovesonline stationary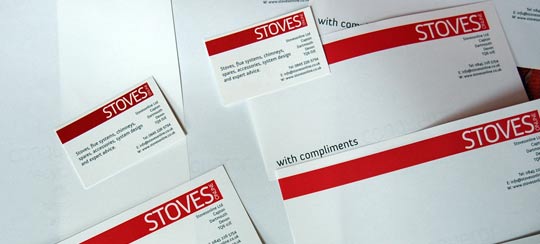 Our stationary is printed on recycled paper using vegetable inks. I am very pleased with the finish that this resulted in - I talked with the local printer that we usually use, although they had not used them before, they agreed to buy in some vegetable inks. We had been expecting a slight loss in quality but they look great. So now all our headed paper, compliments slips, and business cards are printed on recycled paper (card in the case of the business cards of course). I will make sure that the large print runs of our stationary are done using recycled papers and vegetable inks from now on.
Electronic quotes, invoicing, receipts
Rather than send off physical copies of quotes, invoices, receipts we prefer to send them electronically via email as pdfs. Not only is this a much faster, it is also easier to keep your documents in order and to hand, creates less mess, and of course requires no printing or postage. All our quotes, invoices, and receipts carry the footer "Save money and cut down on waste - please only print this out if you really have to."

Read about the other ways in which we are trying to make Stovesonline a more sustainable business.