Stoves in the Italy from an English speaking supplier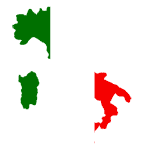 Are you an expat, living in Italy and looking to invest in a quality Stove? Are you finding it difficult to deal with Italian stove suppliers? We can help! Many expats living in Italy find that it is very easy to deal with Stoves Online, compared to local suppliers. We are a professional English speaking company who regularly ship woodburning, multifuel and boiler stoves to Italy. Our experts can help you all along the way right from choosing your stove, to designing a safe installation and chimney system, having your stove safely delivered to you in Italy, to liasing with your chosen installer.
It is mainly the European contemporary woodburning stoves that we send to Italy - very efficient stoves that look amazing.
Stove delivery to Italy
We give you an individual quote based on the size and weight of your stove. The stove will be delivered by truck - directly to your door.
The regions in the Italy which we have delivered stoves to are:
Abruzzo (Abruzzi) - L'Aquila
Aosta Valley (Val d'Aoste, Valle d'Aosta) - Aosta (Aoste)
Apulia (Puglia, Puglie) - Bari
Basilicata - Potenza
Calabria - Catanzaro
Campania - Naples (Napoli)
Emilia-Romagna - Bologna
Friuli-Venezia Giulia - Trieste
Latium (Lazio) - Rome (Roma)
Liguria - Genoa (Genova)
Lombardy (Lombardia) - Milan (Milano)
Marches (Marche) - Ancona
Molise - Campobasso
Piedmont (Piemonte) - Turin (Torino)
Sardinia (Sardegna) - Cagliari
Sicily (Sicilia) - Palermo
Trentino-Alto Adige/Südtirol (Trentino-Alto Adige) - Trento
Tuscany (Toscana) - Florence (Firenze)
Umbria - Perugia
Veneto - Venice (Venezia)
Help and advice with choosing the right stove
Although we offer our complete range of multifuel, boiler and wood burning stoves to our Italian based customers, we find that the most popular stoves with our Italian customers are the Westfire contemporary stoves, Cera stoves, and Morso designer stoves. These are all designed to provide heat to a large room as well as providing a stunning focal point. Because they are all very efficient and clean burning the flame patterns produced in these contemporary designer stoves is very impressive.

If you would like us to give you a quote for supply and delivery of a stove to you in Italy, or if you would just like more information, then please

Contact Us