Stoves for tents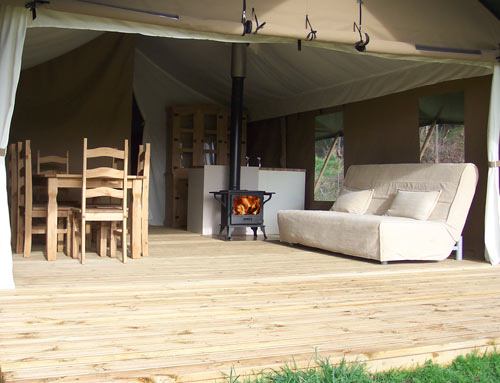 Perhaps you like to go away for a few days camping in the wild or maybe you run a glamping business. Whatever the reason a wood burning stove can make a tent cosy and warm even in cooler months and we can help you pick the right one and install it safely.
Which stove is good for a tent?
The stove needs to be strong, relatively small so that it can be easily transported (at least if the tent is not permanently stationary) and not too heavy. The makes we most commonly put into tents are Woolly Mammoth, MI Fires, and Charlton and Jenrick as they are not too big, relatively inexpensive but still efficient and with a flat top for putting a kettle or cooking pot on.
Installing a stove in a tent
To put a stove in a tent is relatively simple. It requires you to think about positioning and safety as distances to combustible material need to be adhered to.
Flue pipe
All stoves, including those sited inside a tent, require a flue for the smoke to go up. We can help you work out the flue pipe that is required from the stove and the extra flashing that will be necessary to take the pipe up through the canvas. The canvas should be cut back to maintain a distance to combustible material. A small section of canvas is replaced with an aluminium panel, sealed to which is a silicon flashing cone. The stove flue pipe is simply slid through this when the tent is assembled and forms a safe watertight seal. The flue pipe, often a combination of single skin and twin wall insulated flue pipe, should ideally run up to just above the height of the tent to ensure a good draw and a rain cap stops rain entry at the top.
Apart from the safety aspects, you might also consider how often you will be moving the tent before you decide if you are using single skin flue only or double skin on the outside, or all the way. The single skin flue is lighter and therefore easier to transport, but you would need to leave a circle three times the diameter of the flue to anything combustible. However, if you are using the tent or yurt a lot then definitely choose twin wall flue as it's a lot safer.
Safety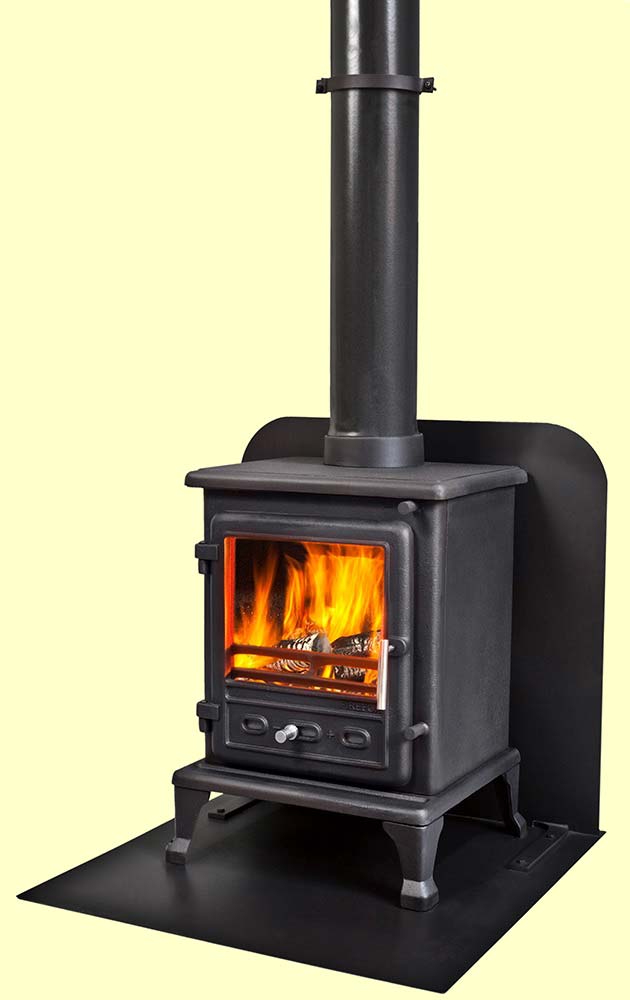 In order to make installation of the stove sturdier, safer and easier to manage we suggest using a Camping Hearth and guard.

The Standard Camping Hearth with backplate gives you a sturdy footing for the stove to stand on. It provides a firm, level base, and incorporates a bracket to stabilise the flue. It also defines the area you place the stove in and gives you a non combustible area in front of stove. The backplate provides extra safety, allowing you to site the stove in front of a tent wall and prevents children or pets running into the back of the stove.

A stove Guard is a vital necessity if there are going to be children or pets visiting or living in the tent.
If you'd like to talk to someone about fitting a stove into a tent then give us a ring on 0800 246 1250 and we'll talk you through the process.

Prices for camping items for stoves
| | |
| --- | --- |
| | Standard camping hearth with backplate and flue stay ring - £365 inc VAT |
| | Guard - 45 inc VAT |