Who am I at Stovesonline?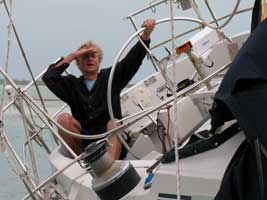 Hi my name is Sune (pronounced as in sooner or later) and I manage the Stovesonline website, database systems, and other geeky type things. For many years I ran a web development company but then Stovesonline took over. I like the fact that stoves are often quite beautiful and that they let you physically gauge how much fuel you are using for heating. I think that this sort of fuel awareness can only help to encourage people to better insulate their houses and so use less fuel in the first place. If we are going to meet our greenhouse gas targets then we need a dual approach: using less energy in the first place and then shifting that energy source away from fossil fuels. Stoves are part of this energy solution.

By the way I am not actually a sailor - the picture is from a wreck which we found on the beach one day sitting at a rakish 45º angle....it would probably be a bad idea to let me loose at the tiller.
My life in general
I have a wonderful wife and a 9 month old son, and we all live in Devon. We have 6 chickens at the moment and will get some Indian runner ducks soon. The chickens are for their eggs and the ducks will wander around the village and act as traffic control (we used to have ducks in the village but they were eaten by a fox or stolen or they emigrated).
I am a keen diver and involved in shark conservation. You can watch a Youtube conservation film I made, just click the link. I also like to surf, although I am not that good - usually I make it out to the back, look at the size of the waves coming in and wonder what I'm doing there as I am bound to get mangled trying to come back in again. Then I repeat it.
My stoves
In my kitchen I have a range cooker stove. We cook and bake on it and it provides hot water too. There are also a couple of radiators plumbed in. When it is cold we burn about two big armfulls of wood a day - not a very scientific measurement I know...we keep the wood in a shed near the back door so that it is not too far to walk to bring a load in. In the house the wood lives in a basket near the stove.

In my office I have a Westfire 15 stove. This is a contemporary stove from Denmark with a big curved glass window. It is very efficient and controllable - you can get amazing flame patterns in the firebox as the wood gas burns. It is a bit too big for my office so I only have it lit a few hours when it is cold - 3 or 4 logs keep the office warm all day.