Which is the best Woodheating solution for me?
The government have made it clear that they are phasing out oil and gas for house heating, to be replaced by heat pumps backed up by some form of sustainable, low carbon heating. Government grants are available to offset the initial cost of installing new systems.
Choosing your primary and secondary heating
A NEW BUILD project will be aiming for a house that is highly insulated and largely airtight. Depending on the size and heat demand that would normally either lend itself to a heat pump as primary heating backed up by a wood or wood pellet burning stove as secondary heating or, if the size and heat demand is higher, to the primary heating being wood pellet.
Into that mix you can add:
1) Solar PV panels - to offset the fact that your heat pump will be consuming a fair amount of electricity.
2) Solar thermal panels - to provide Domestic Hot Water (a heat pump's efficiency drops considerably when required to produce DHW temperature water)
Or
3) A back boiler in the wood or pellet stove to provide the DHW and, if needed, extra heating.
A RENOVATION project. If you are able to attain similarly high levels of insulation and airtightness throughout the house as a new build then you can treat it as above. It is often difficult or very expensive to achieve sufficiently high levels of insulation and airtightness in an existing building and then you should consider a wood pellet boiler system as your primary heating backed up by a wood burning stove. Into that mix you can add:
1) Solar PV panels - to offset the electricity you use.
2) Solar thermal panels - to provide Domestic Hot Water. Although the pellet boiler stove can easily provide the necessary DHW, a solar thermal panel allows you to take advantage of free energy when the sun is shining and saves your boiler firing up just to heat water. If the sun doesn't shine then the boiler will automatically take care of the DHW requirement.
If you have a good supply of free or cheap firewood then a further option is a log gasification boiler. A log gasification boiler burns wood at an efficiency of over 90% and has very low emissions. The wood is batch burnt at maximum efficiency with a thermal store holding the heat until it is needed. Unlike a wood pellet boiler it will need to be manually loaded and fired up every day or two and so, coupled with the wood preparation and storage, is comparatively labour intensive.
A combination of a log gasification boiler with a built in wood pellet burner gives a greater level of automation, giving you the choice of leaving it to the pellets or loading the boiler with wood.
The Boiler Upgrade Scheme is a government grant to help people make the transition to low carbon forms of heating like heat pumps or biomass boilers. It is an upfront payment of £5000 (or £6000 for ground source heat pump systems).
Burning Wood
Wood is a largely carbon neutral fuel, as it burns it simply re-releases the CO2 that it absorbed as the tree grew. As a new tree grows back in its place then that CO2 is captured again. This holds true whether it is burnt as logs or wood pellets. The high efficiencies demanded of a modern Ecodesign stove have resulted in the lowest ever level of emissions; reducing our personal carbon footprint as well as assisting in combating climate change.
Reducing Carbon output has become a global responsibility and creating a home which is designed with sustainable energy in mind is one way to help towards the zero emissions target. To encourage this, the government launched the Renewable Heat Incentive (RHI) back in 2014 with generous grants wood pellet and biomass boilers, as well as other forms of renewable energy, and this has now been replaced with the Boiler Upgrade Scheme grants. Having a woodburner as your secondary heating already improves your SAP rating.
A home quickly feels warm and cosy with the crackle and flame of a log fire on a cold winters evening,so it's not hard to see why a real wood fire, in all its different forms, remains an essential factor in so many dream homes.
A Traditional Open Fire
An Inset Log Burner
Woodburning insets come in two forms: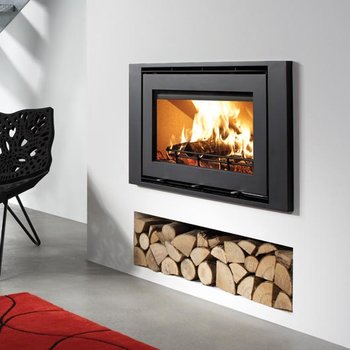 Side opening door models drawing convection air in below the firebox and putting out warm air above, like the Westfire 32 inset stove.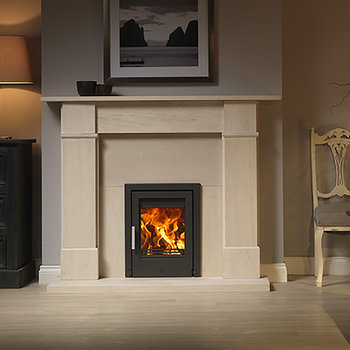 More like a traditional stove but set into the wall, like the ACR Tetbury inset.
Modular Inset stove
Guillotene door models
A Woodburning Stove
A Woodburning Boiler Stove
A Wood Pellet Stove



Masonry Chimneys
Stainless Steel Insulated Twin Wall Chimney