Clear glass stove floor plates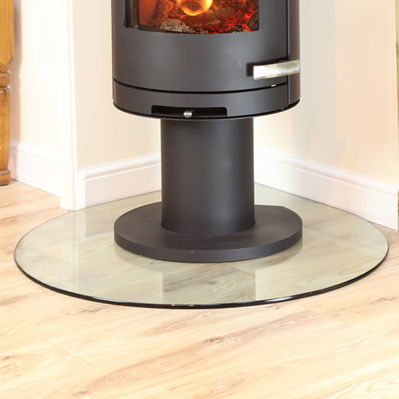 A floor plate is a simple and effective way to make a hearth for your stove. They are particularly useful when your stove is not sat inside a fireplace and it's an added touch that you can see the floor finish through these clear plates. Any stove that has been tested to certify that it can go on a 12mm hearth will be suitable for any one of these plates. Our floor plates come in many shapes and sizes, in slate effect and glass, clear or coloured.
Floor plate shapes
Below are the standard shapes that the stove floor plates are available in. These pictures are not to scale. We can also supply custom shaped glass floor plates.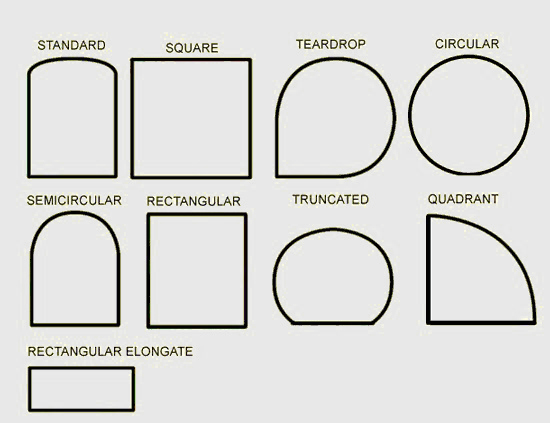 Delivery charges for our clear glass floor plates are:
Plates marked with an (A) cost £35 delivery to most UK addresses.
Plates marked with a (B) cost £46 delivery to most UK addresses
Plates marked with a (W) have delivery included to most UK addresses
There are delivery surcharges to some areas
Any floor plate marked with an (A) comes with free delivery if you order a Westfire or Mendip stove.
Any floor plate marked with an B has free delivery if you order a Aduro stove
Model
Width
Depth
Price
ADURO CIRCULAR GLASS FLOORPLATE (B)
1150mm
1150mm
£430.00 inc. VAT
ADURO RECTANGULAR GLASS FLOOR PLATE (B)
850mm
1000mm
£250.00 inc. VAT
ADURO SEMICIRCLE GLASS FLOOR PLATE (B)
850mm
1100mm

RRP £243.71

£230.00 inc. VAT

ADURO TEARDROP GLASS FLOOR PLATE (B)
1100mm
1100mm

RRP £277.00

£265.00 inc. VAT

ADURO TRUNCATED GLASS FLOOR PLATE (B)
1100mm
950mm

RRP £262.21

£250.00 inc. VAT

GLASS FLOORPLATE FOR INSERT STOVES (A)
1000mm
300mm
£125.00 inc. VAT
QUADRANT GLASS FLOORPLATE (W)
1000mm
1000mm
£350.00 inc. VAT
SEMI CIRCULAR GLASS FLOORPLATE LARGE (W)
1000mm
1200mm
£350.00 inc. VAT
SEMI CIRCULAR GLASS FLOORPLATE MEDIUM (W)
850mm
1000mm
£245.00 inc. VAT
SEMI CIRCULAR GLASS FLOORPLATE SMALL (W)
840mm
840mm
£220.00 inc. VAT
SQUARE GLASS FLOORPLATE (A)
900mm
900mm
£255.00 inc. VAT
STANDARD GLASS FLOORPLATE (A)
850mm
1100mm
£255.00 inc. VAT
STANDARD SMALL GLASS FLOORPLATE (A)
800mm
850mm
£240.00 inc. VAT
TEARDROP GLASS FLOORPLATE (A)
1000mm
1000mm
£285.00 inc. VAT
TRUNCATED GLASS FLOORPLATE (A)
1000mm
930mm
£285.00 inc. VAT