High temperature header tanks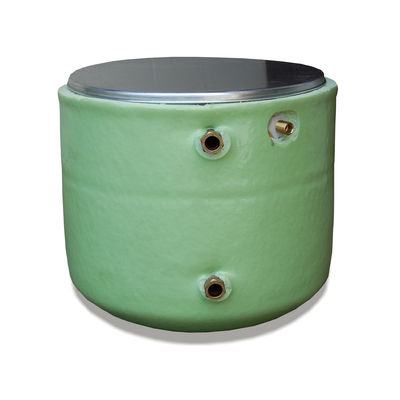 These high temperature header tanks are essential for boiler stoves installed to open vented systems. The boiler stove has a vent pipe that goes into the top of the F&E (feed and expansion) tank. If the system overheats for some reason the resulting steam then vents through this pipe safely into the header tank. This means that the tank can potentially get very hot indeed with the top part being heated to above 100ºC by the steam. What you do not want is the tank becoming soft and then potentially spilling the very hot contents. Not only would this be potentially dangerous, especially if there is a bedroom below, it would also be at the best a nuisance and at the worst cause extensive damage to your house: if the tank spills out then of course cold water would probably flow freely from the ball valve in the tank until it was noticed. Why take the risk?
These high temperature header tanks are made from copper, they are insulated so that they stand less chance of freezing in your loft, come with a lid, and have all ther parts needed including a metal float and ball valve.
The 40litre high temperature header tank is 520mm in diameter and 420mm high.
The 65litre tank is also 520mm in diameter and 660mm high.
| Model | Product Code | Price | |
| --- | --- | --- | --- |
| 40LT HIGH TEMPERATURE HEADER TANK | HITEMPHEADER40 | £285.00 inc. VAT | |
| 65LT HIGH TEMPERATURE HEADER TANK | HITEMPHEADER65 | £350.00 inc. VAT | |