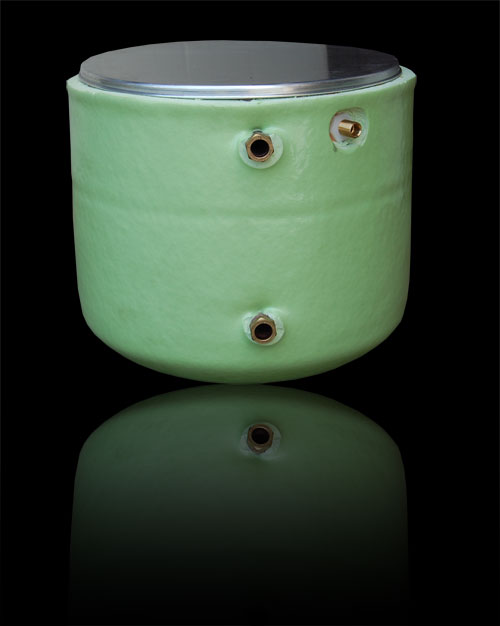 These high temperature header tanks are essential for boiler stoves installed to open vented systems. The boiler stove has a vent pipe that goes into the top of the F&E (feed and expansion) tank. If the system overheats for some reason the resulting steam then vents through this pipe safely into the header tank. This means that the tank can potentially get very hot indeed with the top part being heated to above 100ºC by the steam. What you do not want is the tank becoming soft and then potentially spilling the very hot contents. Not only would this be potentially dangerous, especially if there is a bedroom below, it would also be at the best a nuisance and at the worst cause extensive damage to your house: if the tank spills out then of course cold water would probably flow freely from the ball valve in the tank until it was noticed. Why take the risk?

These high temperature header tanks are made from copper, they are insulated so that they stand less chance of freezing in your loft, come with a lid, and have all ther parts needed including a metal float and ball valve.

The 40litre high temperature header tank is 520mm in diameter and 420mm high.
The 65litre tank is also 520mm in diameter and 660mm high.

Contact Us

Ring Stovesonline on 0800 246 1250 | 01803 712316 | 01237 473900 When you ring Stovesonline you will never be held in a queue, given options or made to listen to music. If we are too busy to answer immediately then simply leave your name and number on the answer phone and we will ring you straight back.
Or write to us via our enquiry system
Variants
40LT HIGH TEMPERATURE HEADER TANK
£192
65LT HIGH TEMPERATURE HEADER TANK
£240
We pride ourselves on offering a great service before, during, and after you have dealt with us. We hope this will quickly become apparent to you. At the same time we like to balance that by being competitive and we are keen for you to choose us. If you happen to be offered a better deal elsewhere then we do not want to lose you so please let us know and we will do our best to match or beat it.
You can use a stove with a backboiler to run your central heating and hot water. Here is a typical plumbing diagram of how you might connect it all up. Of course you should consult a qualified plumber before you start