Plate Heat Exchangers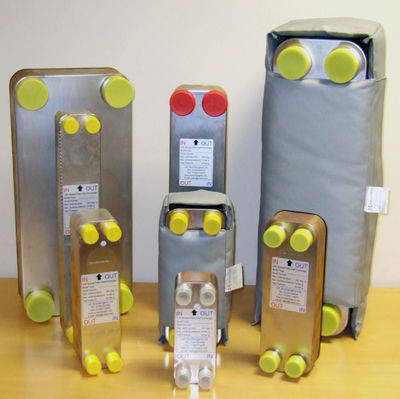 If you do not have a thermal store then a plate heat exchanger can be really useful for linking two heating systems. Many boiler stoves available are still only rated for use on open vented systems, however a lot of heating systems are sealed or pressurised so you cannot simply join the pipes up. A plate heat exchanger provides a means to pass heat from one system to the other without having to actually join the two systems.

The water from each system flows in sandwiched layers opposite each other with the heat passing from the hotter water to the cooler. A pump is needed on each side.

A plate heat exchanger is also useful for district heating schemes where you have a single central boiler serving many properties. Here you have a heating ring main where the main hot water flows and you tee off to each property to a plate heat exchanger. The pressure in the heating ring main does not now effect the pressure in the property and, for example, a leak in one of the houses will not effect the main system, just that single property.
Plate heat exchangers need to be sized on the basis of the boiler output and the flow rates needed, so you will need to contact us in order to proceed. These plate heat exchangers are made from brazed stainless steel plates and can come with a specially manufactured insulation jacket which it makes good sense to take advantage of to reduce those heat losses.
Please contact us for further information as each plate heat exchanger is specified according to your specific system.
Model
Price
Insulated Plate Heat Exchangers rated for Biomass
0-7kW Heat Exchanger
£200.00 inc. VAT
18-28kW Heat Exchanger
£324.00 inc. VAT
28-40kW Heat Exchanger
£422.00 inc. VAT
40-55kW Heat Exchanger
£468.00 inc. VAT
7-18kW Heat Exchanger
£267.00 inc. VAT
Insulation Jackets for Plate Heat Exchangers
Insulation Jacket for 0-7kW Heat Exchanger
£86.00 inc. VAT
Insulation Jacket for 18-28kW Heat Exchanger
£123.00 inc. VAT
Insulation Jacket for 28-40kW Heat Exchanger
£108.00 inc. VAT
Insulation Jacket for 40-55kW Heat Exchanger
£117.00 inc. VAT
Insulation Jacket for 7-18kW Heat Exchanger
£96.00 inc. VAT