SpiroZone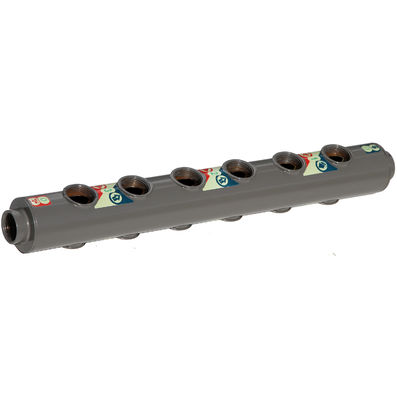 Spirozone from SystemLink allows you to link up multiple heating zones and multiple heat sources. if you are familiar with a low loss header then it is basically a low loss header but with an insert inside which channels the flows towards each other and the returns towards each other. This means that when the hot water from your boiler enters the Spirozone the internal spiral routes the water past the flow to the central heating before it returns to the boiler. This means that the hot and cold water entering the Spirozone mix less than they would otherwise. If the central heating is on then the hot water from the boiler(s) is drawn more directly.
Spirozones are available in various sizes, the size referring to the number of paired flow and return tappings. The two tappings at the end of the Spirozone are 1 inch, the ones running along the body are 3/4 inch. We hold the Spirozone 3 and Spirozone 4 in stock. If you need more tappings, or larger tappings, then please just contact us. Spirozone comes with an insulating cover jacket and stickers to mark up your paired flows and returns.
Pictured is the Spirozone 7.
| Model | Freedelivery | Price | |
| --- | --- | --- | --- |
| Spirozone 3 | No | £246.43 inc. VAT | |
| Spirozone 4 | No | £321.24 inc. VAT | |
| Spirozone 5 | Yes | £431.25 inc. VAT | |
| Spirozone 6 | Yes | £530.26 inc. VAT | |
| Spirozone 7 | Yes | £675.48 inc. VAT | |