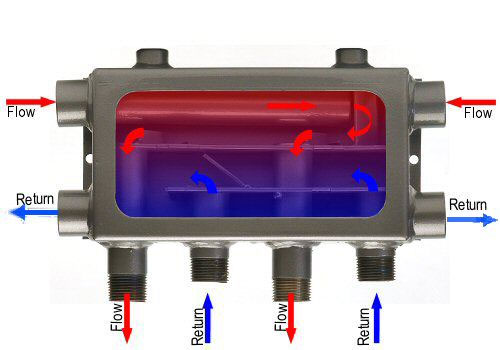 A SystemZone heating manifold allows you to link multiple heat sources to a domestic hot water and space heating system. One good thing about a SystemZone is that you can use it on pressurised systems as well as open vented systems. The other clever thing is that a SystemZone is not just a metal box with tappings ; inside there are a series of baffles which direct the hot water flowing into the SystemZone toward the hot water and/or heating flow and the cool returning water back to the returns on the boiler(s). In this way the best use is made of the heat entering the SystemZone which means fast reaction times on first lighting your boiler stove. Of course you can link in a conventional boiler as well and control when the conventional boiler, pump to start charging the domestic hot water, and heating system pump comes on to make best and most efficient use of each heat source in your system.

You can use the SystemZone like a load unit to ensure that your boiler stove reaches operating temperature quickly and stays there by clever use of thermostats.

The SystemZones are each designed for increasing amounts of heat sources as outlined below and come uninsulated so your installer will need to insulate and wrap them well after installation is complete.
We pride ourselves on offering a great service which we hope will quickly become apparent when you deal with us. At the same time we like to balance that by being competitive and we are keen for you to choose us. So if you are offered a better deal elsewhere then let us know and we will beat it.
Contact Us

Ring Stovesonline on 0845 226 5754 | 01803 712316 When you ring Stovesonline you will never be held in a queue, given options or made to listen to music. If we are too busy to answer immediately then simply leave your name and number on the answer phone and we will ring you straight back.
Or write to us via our enquiry system