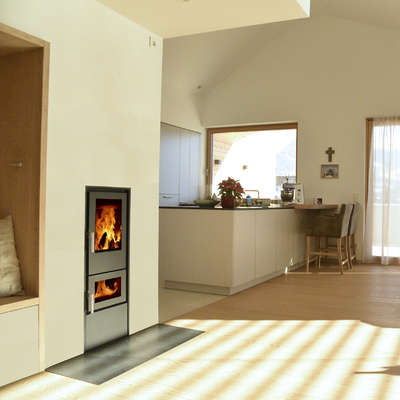 Walltherm Vajolet insert stove

You can use our Flue Design Service to have your chimney system designed by our experts, it's all included when you choose us.
A stove is the cosy heart of a home and a big investment - we'd like to make sure that everything's right for you.
The Vajolet Insert fits neatly within an existing fireplace or a false wall and is powerful enough to heat the whole house.

A true twenty-first-century take on wood heating, the Vajolet Insert has an ultra-stylish contemporary design and burns wood with exceptional efficiency. It is built in such a way that, once fitted, the front face of the stove is flush with the wall so that the fire can be seen from any angle.

The Vajolet Insert will provide central heating and unlimited hot water using less wood than any other stove on the market. The insulated chamber into which the stove is fitted can have most of the radiant warmth ducted upstairs or into other rooms, heating the whole house. The hot water is gathered into a thermal store and used for domestic hot water, or for heating later when the stove is not in use. This set-up makes the Vajolet Insert perfect for a well-insulated home, especially as the combustion air can be taken directly from an outside vent.

The Vajolet Insert must be installed with a Walltherm controller, as its digital display enables you to monitor the flue gas temperature and adjust the air damper for gasification mode. If you forget to close the flue baffle, the controller will sound an alarm to remind you as soon as the flue temperature rises above 300-400°C.

The Vajolet Insert comes equipped with: 3 bar pressure relief valve, overheat safety valve, thermostatic combustion controller (non direct air models), pressure gauge, flue thermometer, thermostat for pump start and manual air vent.
You can contact us by phone: 
Main number: 0800 246 1250
Jack: 01237 473 900
Susi 01803 712 316
You can use our enquiry system to send us a message through the website.
Or you can email us via info@stovesonline.co.uk