Westfire Series One Stove
The Westfire Series One traditional multifuel stove has the general shape of a more traditional UK stove. But the Westfire Series One design, both aesthetically and functionally, has been brought right up to date. This is a highly efficient woodburner (80%), there are primary, secondary and tertiary air supplies to the multifuel firebox, and you have the option to make it room sealed by connecting this multifuel stove to an external air duct. The Series One multifuel stove is fitted with a ridding grate.
Visit our Westfire Series One Stove page, or click on the picture for more details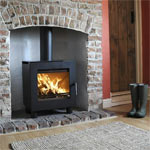 Westfire 23 Wood Stove
Arguably, a more contemporary than traditional woodburner, the Westfire 23 is still a compact and linear stove. The Uniq 23 is a very efficient woodburner and heavily baffled, so needs to be connected to a good insulated chimney.
Visit our Westfire 23 Wood Stove page, or click on the picture for more details
Westfire stove stands
Westfire stoves are now available with stands in 2 different sizes so that you would be able to find one suitable for your stove.
This lifts the stove up higher from the floor making the reloading much easier and also giving you a great view of the fire - The stands would be shipped with the stove on a pallet delivery - if shipped alone the pallet delivery cost would be £46 inc vat for mainland delivery.
Visit our Westfire stove stands page, or click on the picture for more details