What is a Defra Exempt stove?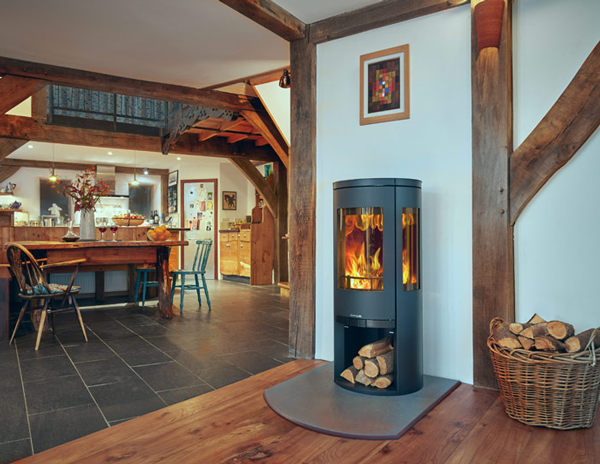 People often ask us what a Defra Exempt stove is.
A Defra Exempt stove is a stove that can be used to burn wood in a Smoke Control Area. Often a Defra Exempt model will be denoted by calling it "SE", standing for Smoke Exempt. Both these terms mean that the stove has passed a test designed by the UK government's Department of Environment, Farming and Rural Affairs (Defra). This test measures emission levels and the amount of smoke that is produced during all stages of normal operation. Only stoves that have passed this stringent test can be installed within city areas that have regulations under the Clean Air Act of 1952. This Act was set up in 1952 in response to severe problems with inner city pollution and especially smog in the big cities like London.
Modern stoves will have higher efficiency ratings and burn much cleaner than older models. This is worth considering when replacing an old favourite. Yes, it may have worked stalwartly over the last thirty years, but it will not be as efficient and as environmentally friendly as a new stove that has benefited from the valuable research and development that has been done by stove manufacturers around Europe.
Some manufacturers design a special smokeless kit which must be installed into the standard model if the stove is being fitted into smokeless areas. The smokeless area kit will normally work by putting a stop on the air vent to prevent it from closing completely. This prevents the stove being used in 'slumber' mode, which is both very inefficient and very polluting. When the air intake is closed right off the wood will just smoulder, producing a lot of smoke and virtually no heat.
Browse all our Defra Exempt stoves
By 2022 the EU-wide Ecodesign regulations sets min efficiencies, introduces NOX and OGV ceilings (not there previously) and sets emissions limits (not there previously apart from for DEFRA Exempt models). The emissions limit looks to be even stricter than the current DEFRA Exempt ceiling. This means that all new stoves from 2022 will be cleaner burning than the ones currently permitted for woodburning in Smoke Control areas. You can read more about Ecodesign.
Environmental awareness by an ever growing percentage of the population has helped to reduce pollution. Even though pollution produced by the use of wood burners is comparatively low (and more recent research appears to show that the contribution of stoves to this was overestimated by more than double) there is no room for complacency. The Mayor of London, Sadiq Khan should be praised for his call to end the burning of wood in London on open fires - research shows that this still happens a lot. Burning wood in fireplaces is not just inefficient in terms of producing warmth, it is also very polluting. Sadiq Kahn has recognised that one of the solutions to people polluting through burning wood is to encourage the use of modern Ecodesign ready stoves as an alternative to open fires and older stoves. This allows people to have a real fire in their homes with a fraction of the smoke produced by an open fire. It will also make a genuine contribution to their heating, enabling their other fossil fuel heating to turn itself off. Even better is that by replacing an open fire with a stove there is no longer an open chimney that sucks warmth out of a house all year long.