DM pumice chimney system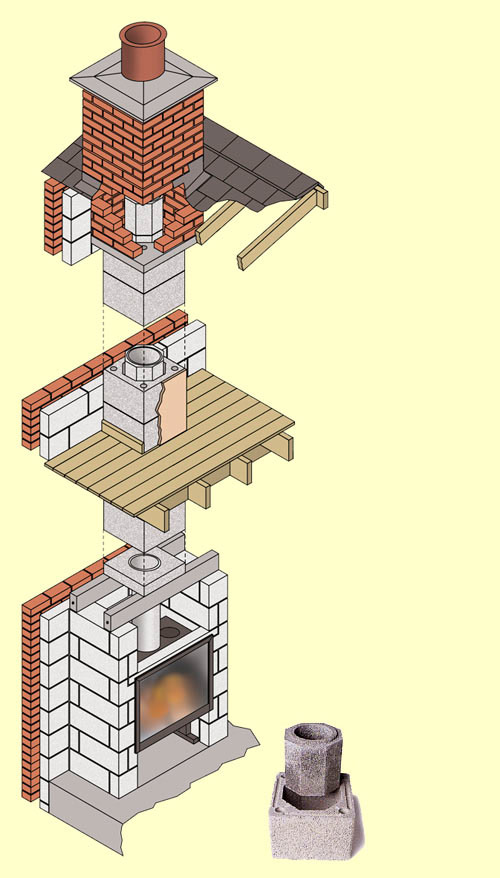 DM pumice liner is a modular block system and is a little like concrete lego (also Danish!). DM system is comprised of pumice inner liners and then a lightweight square concrete outer casing. They are glued together using lip glue and the outer casing normally jointed with sand cement mortar (the liner joints and block joints are staggered for strength). This forms the smallest masonry chimney possible. So what's so good about the DM pumice chimney system?
The DM Pumice chimney system is very fast to install so whilst the material costs may be a little higher than alternatives the labour cost is far less.
DM forms a chimney with a very low footprint, taking up less valuable space in the house.
Non structural timbers can be run right up to the external face of the chimney.
Making an airtight seal at the roof penetration is relatively easy.
DM forms a very well insulated chimney suitable for an efficient woodburning stove - clay and concrete liners are not really a suitable chimney for a wood stove, whatever people may tell you.
A DM pumice chimney can withstand the high temperatures of a chimney fire.


We start with the DM 36 pumice chimney system which has an internal diameter of 150mm suitable for many of the stoves on the market today, especially if your project is newbuild. We then move on to the DM 44 pumice chimney liner system which is available in internal diameters of 200mm and 225mm. DM 44 is for larger stoves, bigger boilers stoves, and most sizes of log gasification boiler. Lastly the DM 56 pumice chimney liner system is available in internal diameters of 300mm and 345mm making it best suited to open, inglenook style fires.
View Cart
View Cart