Pumice chimney liners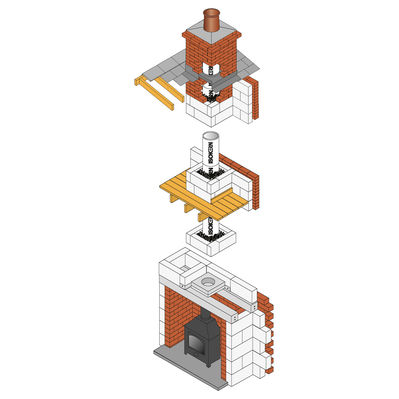 Building a new insulated chimney
Round pumice liners are the ideal liners to use when building a concrete block or brick chimney. Installed with a leca backfill, it will give you a fully insulated chimney, perfect for using with a stove.
Red clay or concrete liners are OK for using with an open fire, as most of the heat goes up the chimney, but are potentially dangerous when used with a stove. A modern woodburner is working at around 80% efficiency and, with so little heat escaping into the flue, needs the insulation of pumice to keep the flue gases  warm enough to maintain a good draw and prevent tar condensating that can lead to chimney fires.
The chimney outer skin is usually made of brick or concrete block, then each 600mm long liner rebates into the one below it with a line of lip glue, and the leca backfill is added as the chimney goes up. We do a range of access blocks, bends, support blocks, cappings and adaptors to cover virtually any permutation of chimney.
View Cart
View Cart