£5,780.00 inc VAT @ 5%
Why is this price at 5%?

This is the lower VAT rate which applies when your Klover wood pellet stove is installed by an authorised and trained Klover installer. This 5% VAT rate also applies to the labour and chimney materials.
The Klover BiFire Mid is a combined log and wood pellet boiler stove that is able to give out over 25kW of heat; plenty enough for most houses. Like other Klover boilers the BiFire Mid is hand-made with care and attention to detail. One such detail is the stainless steel strips which the door rope seals against when you close the door which makes the seal better and prolonges the life of the rope. This, like the choice of high quality, solid, components is a touch which may not be instantly obvious when you see the boiler but which will show itself in the years to come.
The BiFire Mid has a wood pellet boiler on the left hand side and a log boiler stove on the right hand side. You can burn them separately or together and you can program the pellet burner to only come on when it is needed.
Burning only wood pellets at an efficiency of 90.8% the BiFire Mid gives up to 10kW of heat to water and 3.5kW to the room. Burning only logs the BiFire runs at 75% efficiency and gives up to 7.5kW of heat to water and 4.5kW to the room. This gives a combined output of 17.5kW to water and 8kW to the room.
There is the option to add in a combi-coil which provides on demand domestic hot water when the boiler is running and the BiFire comes as standard with Klover's unique Security Top System. The Security Top System makes installing the BiFire Mid to any system very easy indeed whether it is an open vented or pressurised system. You do not need to add in a high temperature header tank for an open vented system or an expansion vessel for the stove on a pressurised system, and a load unit is not needed either, all of which saves a good deal on materials and labour.
The Klover BiFire Mid is, for me, the model that I would choose because it is that bit more compact than its bigger cousin and yet has a high heat output of 25.5kW (compared to 28kW). I would probably use this boiler stove in the following way; I would hook it up to a thermal store with solar panels attached for hot water in the summer. In the heating season I would burn logs when I got home to provide heating and charge up the store. On colder nights, or when I am home late or just forget to light the log stove the pellet will automatically come on. This gives a cosy log fire and the ability to manage the processing of your own fuel which I like, plus the automation and ease of the wood pellet.
The BiFire Mid is available in a choice of steel or ceramic finish and in a variety of colours. The price shown here is for the steel finish, the main picture shows one of the ceramic finishes.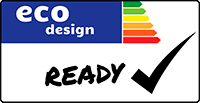 Stoves like the Klover BiFire Mid Log and Pellet Boiler Stove will typically burn 90% cleaner than an open fire. They are also a pleasure to use, way more efficient and do not suck huge amounts of cold air through your home.

Advanced modern stoves are part of the solution to improving our air quality.

We think its also time to Ban open fires in cities.
| | |
| --- | --- |
| HEIGHT | 1080 MM |
| WIDTH | 820 MM |
| DEPTH | 600 MM |
| ECODESIGN READY | Yes |
| WEIGHT | 280 kg |
| COLOUR | Standard Finish Black or silver (other colour options available on special order) |
| COLOUR CHART | View |
| FLUE DIAMETER | 180 MM |
| NOMINAL HEAT OUTPUT | 25.5 kW |
| WARRANTY | 2 years |
| NOMINAL OUTPUT TO WATER | 10.7 kW |
| NOMINAL OUTPUT TO ROOM | 4.3 kW |
| BACK OF STOVE TO CENTRE OF TOP FLUE | 228 MM |
| FLUE OUTLET | Top only |
| DIRECT AIR SUPPLY | Yes - Direct Air can achieved as an optional extra. |
| CAN HAVE 12MM HEARTH | Yes |
| FUEL | Woodburning,Pellet Burning |
| EFFICIENCY BURNING WOOD PELLETS | 90.8 % |
| EFFICIENCY BURNING WOOD | 76.3 % |
| NOMINAL OUTPUT TO WATER ON WOOD | 7.5 kW |
| NOMINAL OUTPUT TO WATER ON PELLETS | 10 kW |
| NOMINAL OUTPUT TO ROOM ON WOOD | 4.5 kW |
| NOMINAL OUTPUT TO ROOM ON PELLETS | 3.5 kW |
| MAX LOG LENGTH | 350 MM |
| HOPPER CAPACITY | 30 KG |
| WOOD COMBUSTION FIREBOX SIZE | 260mm x 470mm x 360mm (W x H x D) |
Contact Us

Ring Stovesonline on 0800 246 1250 When you ring Stovesonline you will never be held in a queue, given options or made to listen to music. If we are too busy to answer immediately then simply leave your name and number on the answer phone and we will ring you straight back.
Or write to us via our enquiry system
Variants
Klover BiFire Mid Log and Pellet Boiler Stove Ceramic
£6,605.71
Pellet stove dealer network

We supply our pellet stoves through a network of installation partners.
Read more about pellet stove installation.
Flue Design Service

Would you like us to design & spec. your chimney or liner system? Just use our
Flue Design Service
We offset some of the transport emissions from our deliveries by subsidising fuel efficient stoves. These stoves reduce deforestation which in turn reduces CO2 emissions. Read more about our offsetting here