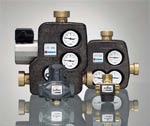 Load units and laddomats
A load unit (or heat charger) is a thermostatic valve, pump, and thermosyphon bypass in one compact, easy to install package. Like the load valve the load unit allows you to maintain high return temperatures to your boiler – this makes the stove run more efficiently, protects from excessive tarring, and improves accumulator tank loading. Because the water leaving a load unit or load valve is always above 60ºC this also means that you get useable hot water a lot faster and you help to maintain that nice hot water at the top of your thermal store which you went to good effort putting there.
A load valve is just the 3 way thermostatic valve without the pump, bypass, temperature readouts or insulation.
Visit our Load units and laddomats page, or click on the picture for more details