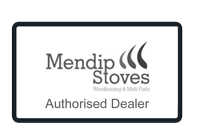 We are really pleased to have such a well manufactured, new range of stoves on board from a UK company. Mendip Stoves have been named after villages in the lovely hilly landscape area around Cheddar.
Mendip stoves all have the facility to burn wood or smokeless fuel apart from contemporary models and most models have been exempt for use in smoke controlled areas.
The Mendip Churchill range is recognised by the gentle curved door and glass of the stove. While the Mendip Loxton series with it's clean lines, begins with the small 3kw model ending with the large 10kw model.
Mendip stoves are supporting the Woodland Trust by donating £10 for every Mendip stove sold.
We feel it is lovely to have a UK manufacturer helping plant hundreds of trees, so showing direct support for a sustainable energy source and landscape.
We're excited to share the following offers for Black Friday 2019 running from NOW - 2nd December 2019 15% off the RRP on the Mendip Ashcott