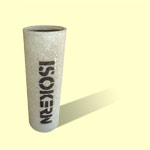 Pumice chimney liners
Isokern pumice chimney liners are ideal for lining masonry chimneys. As the brick or block chimney is built the pumice liner sections are glued together and the space between the liner and block/brickwork backfilled with leca.
Visit our Pumice chimney liners page, or click on the picture for more details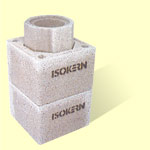 DM pumice chimney system
Isokern DM is a double block, modular, pumice chimney. Both the outer casing and inner liner are made from pumice forming an extremely well insulated chimney. The double block system copes well with expansion and contraction during the heating cycle, and (when reinforced at the corners) the chimney stack can be run for long unsupported lengths.
Visit our DM pumice chimney system page, or click on the picture for more details