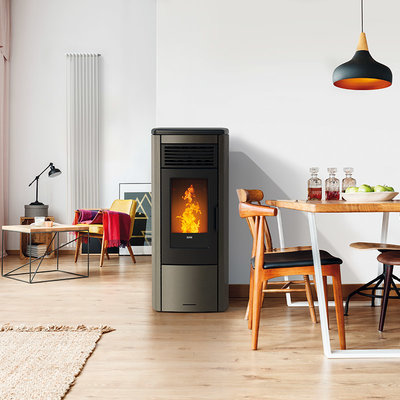 Klover Thermoaura Pellet Boiler

One of the latest generation of Klover boiler stoves, the Thermoaura has an astonishing 95.9% efficiency and includes the new patented Klover crucible which gives an even cleaner, better looking flame and a really effective self cleaning system. The quartz igniter significantly speeds up lighting times while the K sensor gives accurate, real time control of the flame and the whole thing can be controlled from the wi-fi. 
The stove gives around 3 kW to the room and nearly 12 kW to the water so that the central heating is always warm and the domestic hot water ready for when you need it.
Height

1014mm

Width

480mm

Depth

526mm

Fuel

Efficiency

95.9%

Energy Efficiency Class

Nominal Output to Water

11.7kW

Nominal Output to Room

3.3kW

Defra Exempt

Yes

Hopper Capacity

20
Enquire
Our wood pellet boilers are installed via the Firepower network of trained dealers and engineers that cover the UK and N. Ireland.
Contact us by phone on 0800 246 1250 or by sending us a message and we can answer any initial questions you may have, and then put you in touch with your nearest Firepower engineer.