Woodfire Stoves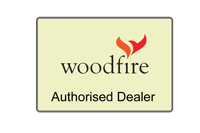 The Woodfire range are part of a new generation of wood burning boiler and non boiler stoves. The non boiler insert models will need grilles to spread the heat, the boiler models will not.
The boiler stoves in the Technical range run at high efficiencies, can connect directly into pressurised systems, overheat safety valves coming as standard. These stoves are designed to fit in well with clean-line, modern interiors. All the Woodfire boiler models have a high output to water compared to other contemporary boiler stoves, making them some of the most efficient boiler stoves on the market.
Woodfire stoves are available as free-standing boiler models (with a curved or flat top) or as a wide range of inset models. Within the range of insets are the Woodfire RX Series which also offers a double sided inset boiler stove. Woodfire stoves run at impressive efficiencies, which means that you can have plenty of hot water for the family and run a complete central heating system at the same time. The rated outputs to water are measured by burning wood - most other boiler stoves are actually tested using coal - so you get a true figure for how they will actually be used. Wood can give less heat to water, depending on how the stove is designed, so when comparing Woodfire boiler stoves to others, check which fuel their figures are based on.
These are well designed well-built stoves and, at this years price, offer exceptionally good value for money.
Category
Fuel & Style
Type
Popular Woodfire Stoves