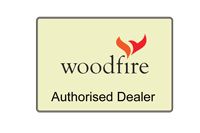 The Woodfire range are part of a new generation of wood burning boiler stoves that are highly efficient, clean burning, controllable and Ecodesign ready. Woodfire have the widest selection of Ecodesign ready boiler stoves available on the market, ranging from freestanding traditional and contemporary models through to beautifully designed inserts. Their trademark is that perfect combination of high efficiency and low emissions and they couple this with sleek designs and big viewing windows to watch the fire through. All Woodfire stoves can go onto a pressurised system and will work at their best feeding into a thermal store. A Woodfire boiler model can be linked with a conventional boiler to give you the best of both worlds and you can also have solar panels feeding into the thermal store to take advantage of the summer sun.
Woodfires are available as free-standing boiler stoves, such as the Passiv and CX models, or as a series of inset models. The Woodfire EX Insert models come in a wide range of outputs and with square or panoramic windows and also as double sided boiler models. All the EX models come with a frame to ensure a straightforward and tidy installation. Woodfire stoves burn at impressive efficiencies, which means that you can have plenty of hot water for the family and run a complete central heating system at the same time. The rated outputs to water are measured by burning wood - many other boiler stoves are actually tested using coal - so you get a true figure for what they will actually produce.
These are well designed, well-built stoves which offer exceptionally good value for money.