Arikazan Ventum VG log gasification boilers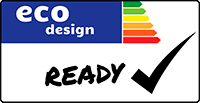 Log gasification stoves are down burning utility boilers that draw the flames and flue gases downwards through the fire and then up through a system of boiler tubes to extract the maximum amount of heat possible and pass it to the water. As the fire is drawn downwards, more air is injected into the gases to create as complete a burn as possible, which means very low particulates (ie no visible smoke) and an incredibly efficient burn (>90% efficiency). This combination of a clean and highly efficient burn and cleverly designed heat exchangers means that a log gasification boiler will give you the most heat possible from your wood.
What a log gasification boiler connected to a thermal store gives you is the ability to run your house entirely on wood, with hot water and heating on demand, and yet only light and burn a stove once a day. An Arikazan boiler has a huge firebox and it is lit, then loaded full and burnt hard at maximum efficiency. That will take your thermal store up to around 90*C, storing enough energy to keep your house warm for the next 24 hours or more.
A log gasification boiler enables you to burn a carbon neutral fuel in the cleanest and most economical way possible, so giving the most benefit to the environment, while at the same time minimising the amount of time needed to run the system.
These boilers represent a big step forward in log gasification design.

1) One top mounted fan which draws the gases up through the boiler matrix rather than blows from the bottom. This keeps the boiler in negative pressure so:  
No need for an extra flue fan
Less possibility of smoke leakage
Less reliance on the natural draught
Less need for large diameter and high flues
2) The fan automatically ramps up when the door first opens and directs the smoke through a top by-pass.

3) Pre-heating of both primary and secondary air, so cleaner and more efficient combustion.

4) With no need for a lighting-stage by-pass the exchanger tubes are taking all the heat produced from the moment the fire is lit and the boiler automatically starts gasifying as soon as the conditions allow.

5) Pilot window on gasification chamber combined with the ability to do fine adjustments to both primary and secondary air inlets to tune the boiler to different installation situations.

6) Timed boost button If the end user needs immediate heat then the boost button automatically ramps up the hot water production for a set time.

7) Built in recognition of a temperature drop in the boiler which automatically switches off the pump to preserve thermal store heat.

8) Large loading door makes for easy loading and allows the user to fit in more logs and set them in a way that avoids cavitation.

9) Engineer friendly straightforward installation and easy access for servicing.

10) Minimal and straightforward user maintenance one handle to clean the heat exchanger tubes and easy ash removal.

11) Simple hinge adjustment to ensure total air tightness throughout the life of the door fire rope.

12) Overheat quench coil fitted as standard.

13) Removable log chamber side panels that prevent tar build up on the boiler walls.
14) Having no by-pass flap to remember to close removes the possibility of wasting a full logs load up the chimney.

15) MCS accredited which means you may qualify for the Boiler Upgrade Scheme grant

16) A+ and EcoDesign ready
| Model | Mcs Certified | Flue Diameter | Max Log Length | Efficiency | Nominal Heat Output | Fuel | Ecodesign Compliant | Price | |
| --- | --- | --- | --- | --- | --- | --- | --- | --- | --- |
| Ventum VG 20 | Yes | 150mm | 500mm | 90.1% | 20kW | Wood Burning | Yes | £3,833.84 inc. VAT | |
| Ventum VG 30 | Yes | 150mm | 500mm | 90.4% | 30kW | Wood Burning | Yes | £4,270.73 inc. VAT | |
| Ventum VG 40 | Yes | 175mm | 500mm | 91.2% | 40kW | Wood Burning | Yes | £5,069.15 inc. VAT | |
| Ventum VG 60 | No | 175mm | 700mm | 91.7% | 60kW | Wood Burning | Yes | £6,728.26 inc. VAT | |
| Ventum VG 80 | No | 200mm | 1000mm | 91.5% | 80kW | Wood Burning | Yes | £9,314.76 inc. VAT | |
| Ventum VG 100 | No | 200mm | 1000mm | 91.3% | 100kW | Wood Burning | Yes | £10,909.86 inc. VAT | |