EnergyStore Bio Prime Thermal Stores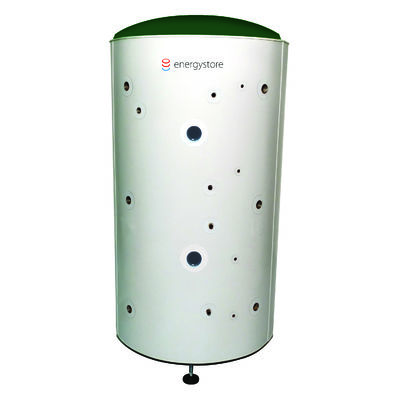 The EnergyStore Bio Prime has been designed for use as a buffer or bulk heat storage tank.  This type of tank is well suited to wood pellet, gasification, or woodchip boilers.

You shouldn't under estimate this tank, although it is called a Bio Prime it still has lots of advantages over other standard tanks with its high insulation properties and plenty of tappings to incorporate multiple heat sources.
Low heat loss.
Each tank has tappings positioned to allow you to connect your biomass boiler with extra tappings in commonly used places for biomass boilers to give flexibility. There are also tappings for conventional boilers and of course several to provide heat to the heating system.
The tappings are flush with the surface of the tank which means that it is an easy job to connect up, less parts are needed, and less time taken.
There are several dry probe pockets for the temperature probes of controllers and for temperature gauges.
Model
Price
ENERGYSTORE BIO PRIME
ENERGYSTORE BIO PRIME 300 LT THERMAL STORE
695mm
1975mm
100mm
3bar
135kg
300
£2,240.00 inc. VAT
ENERGYSTORE BIO PRIME 500 LT THERMAL STORE
800mm
2050mm
100mm
3bar
170kg
500
£2,545.00 inc. VAT
ENERGYSTORE BIO PRIME 750 LT THERMAL STORE
950mm
2100mm
100mm
3bar
210kg
750
£2,880.00 inc. VAT
ENERGYSTORE BIO PRIME 1000 LT THERMAL STORE
1050mm
2150mm
100mm
3bar
230kg
1000
£3,110.00 inc. VAT
ENERGYSTORE BIO PRIME 1500 LT THERMAL STORE
1250mm
2200mm
100mm
3bar
310kg
1500
£4,090.00 inc. VAT
ENERGYSTORE BIO PRIME 2000 LT THERMAL STORE
1400mm
2200mm
100mm
3bar
2000
£4,590.00 inc. VAT
ENERGYSTORE BIO PRIME 2500 LT THERMAL STORE
1500mm
2250mm
100mm
3bar
2500
£4,765.00 inc. VAT
ENERGYSTORE BIO PRIME 3000 LT THERMAL STORE
1600mm
2300mm
100mm
3bar
2000
£5,035.00 inc. VAT
ENERGYSTORE BIO PRIME 4000 LT THERMAL STORE
1800mm
2300mm
3bar
£6,790.00 inc. VAT
ENERGYSTORE BIO PRIME 5000 LT THERMAL STORE
2000mm
2350mm
3bar
£8,535.00 inc. VAT
Thermal Store extras
Two removable sides for narrow access (reduction of 200mm)
£230.00 inc. VAT