Akvaterm Geo Thermal Stores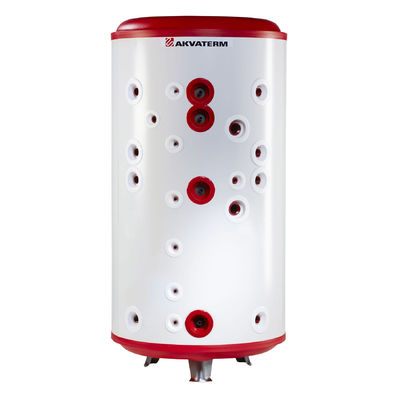 Akvaterm AkvaGeo thermal stores are specifically designed for connection to heat pumps and provide a variety of benefits to the system:
Like the solar tanks the Akvaterm AkvaGeo thermal stores have a stratification baffle plate about a third of the way down the tank. This can be optionally upgraded to an insulated baffle to further improve performance but the added benefit is not huge as it is very good already. Once the water above the baffle has been heated to a high temperature by the heat pump (50ºC-60ºC) it then shifts to heating the bottom two thirds of the tank to a much lower temperature suitable for underfloor heating (around 40ºC).
Heat pumps run very efficiently when producing water at relatively low flow temperatures of, say, 35ºC-40ºC. Here the Coefficient Of Production, C.O.P. will be high, perhaps around 3:1 on average, so for every kW of electricity you put in you get 3kW of heat out. The problem comes because the heat pump also needs to provide your domestic hot water for bathing and washing. Here the heat pump needs to provide a flow temperature of around 50ºC-60ºC and at these temperatures the heat pump does not run efficiently, so the C.O.P. is much low er. To minimise the time that the pump is running at a low C.O.P. you can install two water tanks, one for your domestic hot water that is help at a high temperature, another to drive the underfloor heating at a much lower temperature. The Akvaterm Akva Geo thermal store combines all this in one tank and to top it off the Akva Geo thermal store can also come as a fully equipped solar or solar plus tank so you get the best of both worlds.
The Akvageo thermal stores also have a larger than normal lower domestic hot water coil. This is to ensure that the incoming mains water picks up as much heat from the bottom of the tank which holds the 'cheaper' heat produced at a high C.O.P.
The Solar Plus versions have 2 coils for solar thermal input, 2 to allow you to draw off domestic hot water. The Solar version has 1 lower solar coil. The plain Geo version has the 2 domestic hot water coils.
Key features :
Insulation sprayed on polyurethane. Thickness 100mm
Coil material Copper
Finned coils Yes
Coil length:
DHW coils Lower 9.4m @ 22mm
Upper 12m @ 22mm
Tank Baffle Yes
Flush mounted tappings No
Number of tapping points - 19
Suitable for open vented or pressurised systems - Yes
Model
Price
AkvaGeo
Akva Geo 1000LT
1050mm
2100mm
230kg
£5,065.00 inc. VAT
Akva Geo 1500LT
1250mm
2150mm
280kg
£6,175.00 inc. VAT
Akva Geo 300LT
710mm
2050mm
160kg
£3,555.00 inc. VAT
Akva Geo 500LT
900mm
2050mm
170kg
£3,645.00 inc. VAT
Akva Geo 750LT
1050mm
2050mm
200kg
£4,495.00 inc. VAT
Akvaterm Extras
Removable Side - Reduction of 180MM in Diameter
-180mm
£131.28 inc. VAT