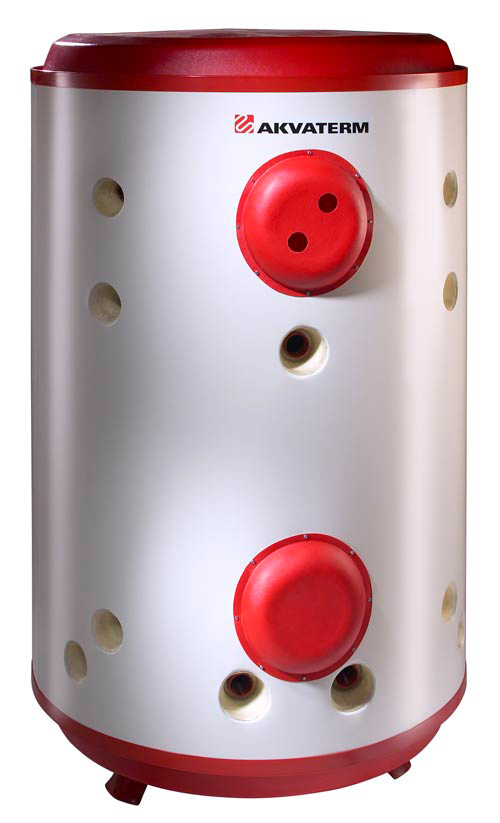 The 100mm of polyurethane insulation helps to keep the water in the Akvaterm AkvaStandard thermal store as warm as possible.
The AkvaStandard thermal store comes with a DHW coil in the top of the tank - mains pressure cold water feeds into this coil and comes out hot. This is useful as it means you get good pressure to your hot water (no need for shower pumps), you do not need a cold water tank in your loft either, and your hot water is totally separate from the actual water in the tank.
The AkvaStandard thermal store can come as a 1.5bar tank for vented systems, or as a 3 bar tank for pressurised systems. Each tanks comes with tappings to allow you to link heat sources to the tank (such as a boiler stove), electrical heating elements (at the bottom and half way up the tank), thermostats, a tapping on top for the pressure relief / air bleed, and a hatch at the bottom which allows you to install an extra coil if you want to use a secondary hot water coil or for solar thermal perhaps.
Do bear in mind that these thermal stores weigh a lot: you will need to have enough hands to move it around when the tank shows up on site.
We can help you with specifying the right size of tank for your installation whether it is linked with a boiler stove or a log gasification boiler.
Key features :
Insulation – sprayed on polyurethane. Thickness – 100mm
Coils:
Solar Coils – No
Domestic Hot Water coil – Yes
Pre-heat Domestic Hot Water coil - No
Coil material – Copper
Finned coils – Yes
Coil length - 9.4m @ 22mm diameter
Tank Baffle – No
Flush mounted tappings – No
Number of tapping points - 13
Suitable for open vented or pressurised systems - select pressurised or open vented model
We pride ourselves on offering a great service which we hope will quickly become apparent when you deal with us. At the same time we like to balance that by being competitive and we are keen for you to choose us. So if you are offered a better deal elsewhere then let us know and we will beat it.
Contact Us

Ring Stovesonline on 0800 246 1250 | 01803 712316 | 01237 473900 When you ring Stovesonline you will never be held in a queue, given options or made to listen to music. If we are too busy to answer immediately then simply leave your name and number on the answer phone and we will ring you straight back.
Or write to us via our enquiry system
| PRODUCT | HEIGHT | DIAMETER | WEIGHT | PRICE |
| --- | --- | --- | --- | --- |
| AKVATERM STANDARD 300 LT TANK VENTED | 2050 MM | 710 MM | 130 kg | £1,560.00 |
| AKVATERM STANDARD 500 LT TANK VENTED | 2050 MM | 800 MM | 155 kg | £1798.96 |
| AKVATERM STANDARD 750 LT TANK VENTED | 2050 MM | 950 MM | 200 kg | £2024.90 |
| AKVATERM STANDARD 1000 LT TANK VENTED | 2100 MM | 1050 MM | 230 kg | £2398.71 |
| AKVATERM STANDARD 1500 LT TANK VENTED | 2150 MM | 1250 MM | 280 kg | £2827.88 |
| AKVATERM STANDARD 2000 LT TANK VENTED | 2200 MM | 1400 MM | 330 kg | £3214.48 |
| AKVATERM STANDARD 2500 LT TANK VENTED | 2250 MM | 1500 MM | 360 kg | £3420.27 |
| AKVATERM STANDARD 3000 LT TANK VENTED | 2300 MM | 1600 MM | 400 kg | £3739.02 |
| AKVATERM STANDARD 4000 LT TANK VENTED | 2350 MM | 1800 MM | 480 kg | £4832.63 |
| AKVATERM STANDARD 5000 LT TANK VENTED | 2500 MM | 2000 MM | 600 kg | £6307.12 |
| | |
| --- | --- |
| BROCHURE | View |